In discussion with Andy and Ali (aka Fenwick Tours) we managed to identify a window of one week when we could all manage to go on another bike trip. It was restricted to one week as both Sara and Ali had to be back for their second Covid jabs, and Andy also has singing gigs booked.
Fenwick Tours wanted us to see some areas of Spain where they had been before, and had therefore planned the whole route, and made all the necessary accommodation bookings which was very much appreciated by Sara and I – thanks guys!
14th & 15th June 2021
On Monday the 14th June we delayed the set off as Andy had been singing the previous evening.
We met up at 10.30 in Teulda and headed off for our first stop of the trip, where we are staying for two nights Complejo Rural Ibipozo near Pozo Alcon (Jaen).
The ride down was pretty straightforward with lovely scenery, and when we arrived at the complex we were delighted to find that we had a complete spacious house with two en suite bedrooms, and parking for the bikes right next to the house. This place was great for us, and is ideally suited for families as it has a swimming pool and also has a restaurant next door.
The added bonus was that we arrived in time to catch most of the Scotland v Czech republic game in the European Championship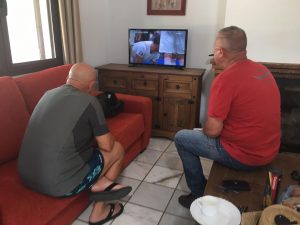 and whilst the score was disappointing Scotland did play well, and enjoyed the "support" from the MP Diane Abbot.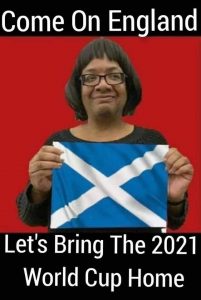 With Sara and Ali being animal lovers, they had already tried to help a baby hedgehog by giving it food and water (it did recover) but there were lots of oo's and aahh's to be heard when they found a litter of kittens just behind the pool. They also fussed and feted some adult cats, one was a big tom, that I don't believe was ever named. Then there was "Tufty"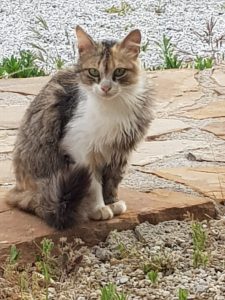 and finally a poor wee soul that obviously had broken a leg only for it to mend in a crooked position, so it hobbled about on three legs. The girls were sure this was the mother of the kittens and initially named her "mouse" as she made a sound more like a mouse than a cat. This led to lots of discussions on the suitability of the name and it was finally decided by the girls to call it "silver" as in Long John!
As we now had a veritable menagerie around the house, the girls grabbed the kitty (no pun intended) and headed off to spend a sizeable proportion on cat food and treats. To save wakening up in the morning with squeaky high pitched voices ourselves, Andy and I refrained from making any comment!
We pretty much lazed in and around the pool for the rest of the afternoon, and this was most welcome given the high temperature.
As we couldn't be bothered getting back on the bikes and riding into town to find somewhere to eat, we decided to have our evening meal at the restaurant immediately next door. This proved to be a good decision as we had a good old laugh with the waitress who it turns out was from Mexico. Not only did she have a good sense of humour, she also spoke pretty good English and had come to Spain with her Spanish boyfriend, who is a bit of a "rapper". After he introduced himself, he proceeded to show us video clips of himself on Youtube. Lets just say that his voice and backing music would be an acquired taste.
It was a real fun evening, and because we were staying in the complex we enjoyed a three course meal at the "menu del dia" rate of 10 euros a head !! Super value……albeit Sara allegedly ordered turkey, but it didn't look like any turkey dish any of us had ever seen before…..however it did taste lovely, and perhaps it was a case of something being lost in translation while ordering.
Next morning we were off to visit the town of Castril and walk through the gorge. But first I cleaned the bikes as they were filthy from a small shower of rain that had deposited sand over the bikes……life is all about priorities!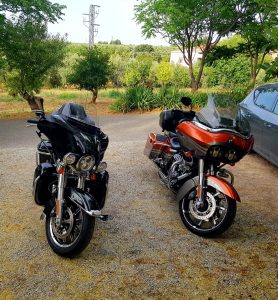 The road to Castril was fairly short but absolutely beautiful. On one bridge we had to wait until a herd of goats crossed the road. Just outside Castril we pulled into the side of the road to look back at the dam that provides hydro power for the area. The face of the dam (from our side) had been lined with rocks. Best described as a dry stone wall all the way to the top of the curved dam wall; and we spent a while discussing not only how they managed to do this, but also why they would do it. Best we could come up with was that it softened the look of the dam for the villagers……..if anyone actually knows, please leave a comment as we are stumped.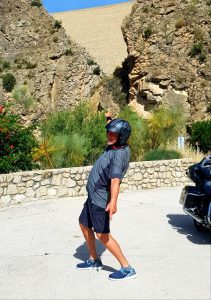 If you click on the above photo you will see the wall of the dam clearer and understand our puzzlement.
Elfin Safety Notice: I didn't ride the bike to here wearing these clothes. I changed in the carpark before riding the final few hundred yards into Castril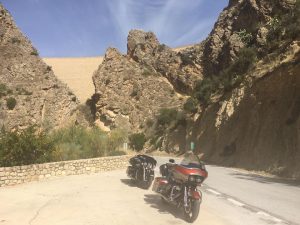 Biker Babes Selfie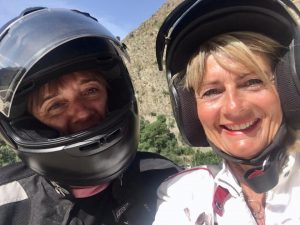 We stopped at a cafe/bar and had a coffee and "tostada con tomate" before heading off through the town to get to the entrance to the tourist information and tickets for the castle.
Andy and Ali at the cafe….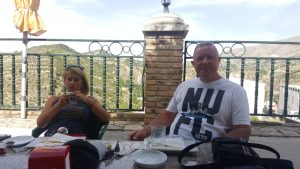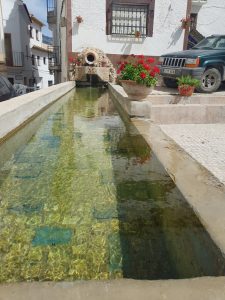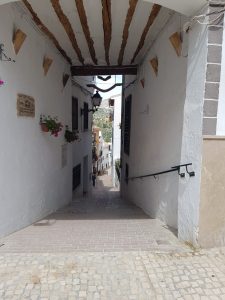 FYI both the Tourist Information Office and access to Castle/Statue are closed on Monday & Tuesdays, this photo shows Andy at the door of the Tourist Information Office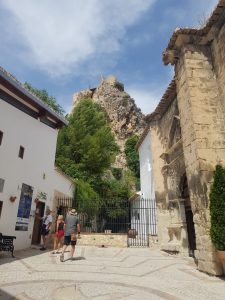 This is where we intended walking to.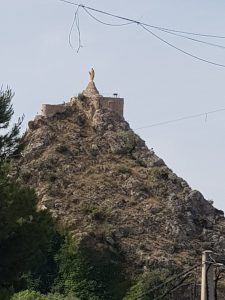 We then headed off to find the path down into the gorge, which is quite short but absolutely gorgeous (excuse the pun) as can be seen in the following photos.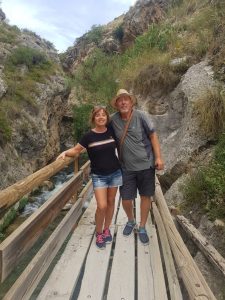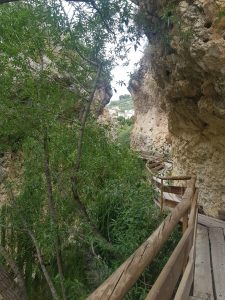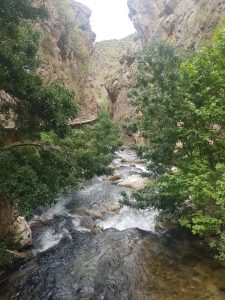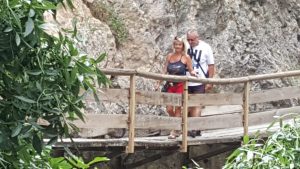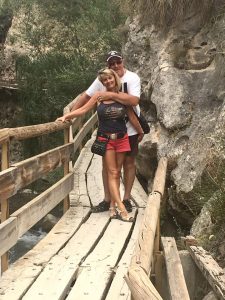 At the end of the gorge walk we came across this doorway with the a plaque at the side that we couldn't quite translate, but it was saying something about light…..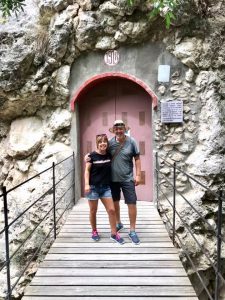 As we were trying to figure it out the two workmen who had been repairing some parts of the fencing arrived and explained that this was the original location of the hydro turbine for the generation of lighting in the town.
They invited us in, and whilst the original equipment has been removed its still fascinating to see the original inlet pipes etc and the guys explained all about this location – lovely people .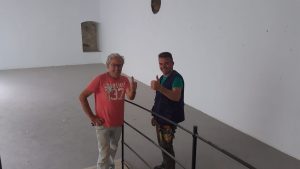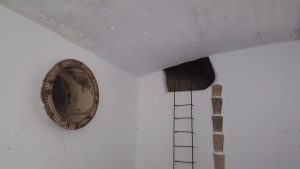 When we got back to our accommodation we decided that for tonight's meal we would walk the kilometre along the the road to the other close restaurant called Kilometre 6 which is located on the 6km marker, so not a long time was spent on naming the restaurant! We duly arrived, only to discover that we were in actual fact one hour or so too early. The owner who must live above the restaurant came down and allowed us to have drink and a look at the menu. Now none of us are skinflints, but the prices seemed a bit higher than we were willing to pay. I have no doubt the quality is really good, but not for us tonight. So I returned the glasses, thanked the owner for his kindness, and told him of our decision.
So it was a kilometre walk back to the restaurant next to the accommodation where we had another lovely meal and no food choices this time that left us puzzled. ????
We had been checking the weather forecast for tomorrow and it's fair to say that it looked like we were going to get wet tomorrow no matter what time we set off, and whatever route we decided to take. Ideally we wanted to ride over the the Sierra Nevada's, but this might be a bit dodgy in the rain. The alternative was to ride on the main two lane roads. We decided that we would make a final decision in the morning. The good news was that we didn't need to check out until midday, so we had a bit of wriggle room.
16th June
Morning arrived and – yep you've guessed correctly – it was raining !!
We were considering staying another night, but after a few hours the skies were showing patches of blue in the direction we were heading, so we loaded up and headed off to ride over the Sierra Nevada's and into the Alpujarras.
On the way to our first stop in La Calahorra there was a most peculiar looking castle, which raised a bit of discussion as to whether it was old or new made to look old. however here is a link that explains the castle and you will see from the photo why we were puzzled.
Our stop for breakfast was also in the town of La Calahorra, where we had the most amazing, huge and light croissants at the Cafeteria Pasteria Morillas before heading over the A337 and arriving in the village of Cherin.
Coming over this mountain road provided us with stunning views and vistas that simply cannot be captured on camera, and as the rain had disappeared we were riding this road under a blue sky and bone dry roads. It is one of those roads that has to be experienced and cannot be explained…….fantastic.
When we dropped down the other side, there was nowhere we fancied stopping in the village of Cherin, so we continued on to Ugijar. Now if you wonder how this is pronounced you are in for a lesson, because here is a clip where the nuances and correct inflections of the towns name can be clearly picked out.
From here it was along the A348 which is one of my personal favourite motorbike roads in Spain. Runway smooth road surface, lovely sweeping bends, and simply astounding massive scenery which at times makes one feel almost microscopic
Andy & Gerry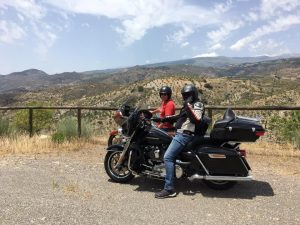 Happy Bunnies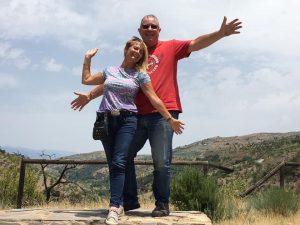 Sitting Bull….Standing Up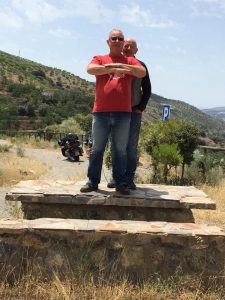 We carried on along this road, through the town of Orgiva (where Sara and I have stayed previously) and on to the town of Lanjaron where we were booked into the Hotel Lanjaron (Grenada) There was a bit of a faff trying to get both bikes parked outside the hotel as it was a tight one way street, and the hotel had no off road parking. Once this was all resolved we got showered changed and headed out to explore the town.
As none of us had stayed in the town before we were all looking forward to exploring the town together, and it proved to be exactly what it is, a small town at one end of the Alpujarras, and given the number of hotels in the town it is obviously popular for tourists visiting this area.
We had a wander around the town which was interesting as it still retains lots of its original character. As it was so hot, Ali nipped into a small shop and bought us all a Mivvi style ice lolly which we enjoyed in a shaded corner……lovely!
We decided on the walk back towards our hotel that we would have an earlier than usual meal, and had decided that pizza was favourite. We had passed a pizza restaurant earlier (which wasn't open, and had no signage stating its opening times) and hoped it would be open when we got back to it, however this was not the case. The restaurant is below a block of flats, and as one of the residents was heading for the entry we asked him what time the restaurant opened. There was a bit of mumbling and basically he was saying he didn't know! How can you live above a pizza joint and not know the approximate time it opens?
We then decided that we would go back to the hotel, freshen up and try again around 1930. This we did and it was indeed open, much to our relief as we were all pretty hungry by this point. We picked two different pizzas but were struggling to decide on the topping for the second, so when the waiter came to take the order we asked him. It was a bit of a surprise when he said honey and courgette and to our ears it sounded peculiar, but as he suggested it – we ordered it 🙂
It has to be said that the quality of the pizza's was super, lovely thin base and flavoursome toppings. The waiters recommendation was delightful, and all plates were duly cleared of food. Whilst having our meal we all discussed the beauty of todays ride and agreed that no photo's can do justice to the magnificent natural scenery.
17th June
Andy had spent some time planning todays route as he wanted us to take in a couple of reservoirs/lakes on our way to our next stop, and we were all delighted he did as some of the views today were outstanding. One in particular, where we had been twisting our way up and down hills, we turned a corner and in front of us was a beautiful turquoise reservoir, which kind off took your breath away for a moment given the sudden burst of colour.
We stopped and parked up on the dam wall (a wee bit naughty) and it turns out this is Los Bermejales reservoir.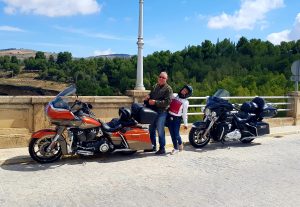 Now, there are times in life where one becomes completely stumped, because when we looked over the dam wall and down to the water we were blown away completely because there were numerous large shark shaped creatures that we estimated were somewhere between six to eight feet long………..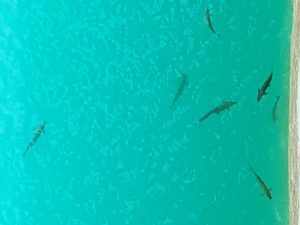 I know that the Ebro river has monster catfish BUT these were not catfish in shape. (I'm jumping ahead a little but when we arrived at the hotel later and asked the receptionist he said they would be Carp or Black Bass – absolutely no way) Therefore if anyone can shed any light onto what these may have been please let me know. The one thing I do know is that if you were swimming in the reservoir and any of these creatures swam near you, then you would, without doubt discover religion very quickly !!
Totally puzzled we head off again enjoying riding our motorbikes through the amazing country side.
Now while I extol the virtues of Fenwick Tours, their trips sometimes include an unexpected section of "off road" and today was no different as Andy and Ali cut off a lovely perfectly serviced tarmac road (whilst stating confidently "its down here") and led us onto, and lets be kind with the description, a gravelly track. After a wee while we had to turn these bikes around and head back to the lovely tarmac road we had previously abandoned…..and I am saying no more on the matter 🙂
The scenery en route was spectacular, however we had a bit of an issue in that no sat nag nor google maps could provide the exact location on the accommodation. Undeterred, when we reached the next coffee stop, Fenwick Tours found the Lat and Long for the hotel via booking.com web site and successfully programmed the coordinates into their sat nag; and off we went again with Fenwick Tours having fully redeemed themselves, and kept their 5 star rating 😉
This was an exciting ride for everyone today as we were heading to our next accommodation to allow us to walk the Caminito Del Rey which had been booked by Ali on line. Exciting for Sara and I as we love new experiences, and perhaps a little more exciting for Ali and Andy who had tried to do this walk two years ago, but sadly there had been no tickets available at that time, and then along came Covid and all the associated restrictions. So it was great that we could all share the experience together.
Therefore to avoid disappointment we would suggest that it's best book tickets before travelling to do the walk.
We duly arrived at our accommodation Hotel La Posada Del Conde (Ardales Malaga) their web site via this link has some neat photos of the walk, and simply parked the bikes in a triangular space right outside the hotel, with the receptionist saying that it was fine.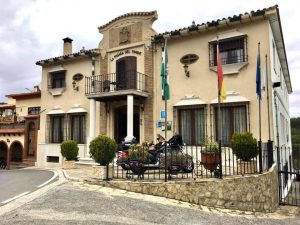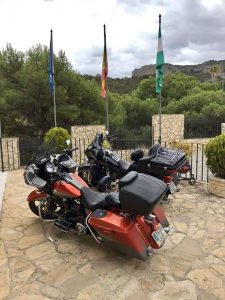 This hotel is in a perfect location for those doing the walk, or indeed just exploring the area.
We all know about Covid and the various rules and regulation in different areas and locations. Well we hit this problem at the hotel as the restaurant and bar were both closed in the evening – with the restaurant only being open for breakfast! The only explanation I can come up with is that all guests checking in have their temperature taken and rooms have all been sanitised, therefore the logic must be the guests are relatively safe, BUT if others came into the hotel without being checked it might create an issue.
The chap at reception could not have been more helpful and cheery, and not only did he explained where we could walk to get a meal at a couple of places, he also explained that the start of the Caminito Del Rey has two entrances near these restaurants and it might be worth us checking them out.
Nearest to the hotel is Restaurante El Kiosko and one of the tunnels that leads to the start of the Caminito Del Rey is right next to the restaurant. From memory its about 2.5 km to the start of the walk from this tunnel.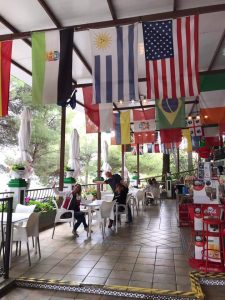 The other is called the Restaurante El Mirador and on the way up to this restaurant you pass the second tunnel from which it is about 1.5 km to the start of the walk. This tunnel is located between both restaurants and is not as dark as it looks, there are lights all the way through, and its only about 100 – 150 yards long, with 6 foot plus headroom.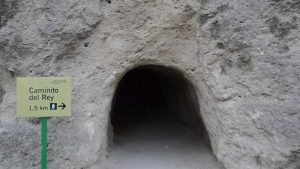 As friends of Andy and Ali had recommended the Mirador Restaurante we walked up towards it passing the second tunnel on the way and stopped at this viewpoint.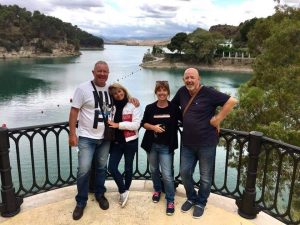 When we arrived at the Mirador we found it to be open and decided to have our evening meal then, rather than walk back to the hotel and come back later.
The views from the Mirador are super and the food was pretty good with certain people (no names mentioned) ordering huge meals.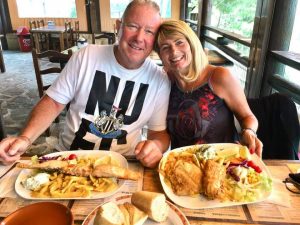 It was also at this time that the previous Ugihar clip was recorded, and as you can imagine created a lot of laughter at the time…….and still does 🙂
When we got back to the hotel we asked the receptionist if we could (even though we were checking out in the morning) leave our bikes outside the hotel until we returned from the walk the next afternoon. They were so courteous and helpful, saying we could also leave our crash helmets and anything else behind the reception desk.
18th June
Next morning after breakfast we loaded up the bikes, left helmets etc and headed off for our reserved time slot. We had assumed that if we arrived at the start earlier we would simply have a coffee or juice. However when we arrived there was nowhere to get a coffee and the only juice available was via a vending machine. We presented our booking slip to the security guard who said we were too early and to wait in the shade. Fair enough we thought, but the only shade was beside the toilets which we declined. Whilst waiting though there were a fair number of people arriving without bookings and they were politely refused.
Ali had booked us onto the walk with a guide, but in discussions with the security guard, she asked if we could forget about waiting on the guide and just do the walk on our own. After a few minutes of checking this was OK'd and it suited us better as we would be saving a bit of time and would get back to the bikes and onto our next stop that bit quicker.
We were all issued with our hard hats and liners for hair, then we were given a quick explanation of the walk along with a safety briefing, following which the gate was opened and off we went in a group of about 15-20 people which quickly thinned out.
This route is not all on elevated walkways, some of it is along lovely paths and low level walkways through gorges etc.
It is impossible to verbalise the beauty of the walk, but it is simply stunning and hopefully some of this is captured on a selection of photos taken on the walk. It is also worth stating that the elevated walkways have been well constructed using stainless steel and seem perfectly safe and secure. It doesn't have any sections where one feels exposed or challenged.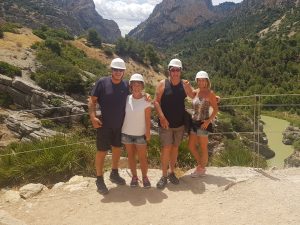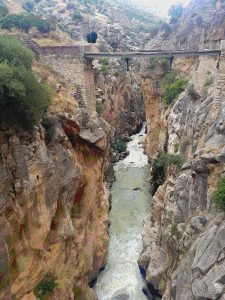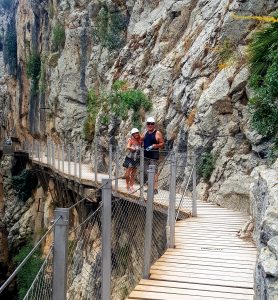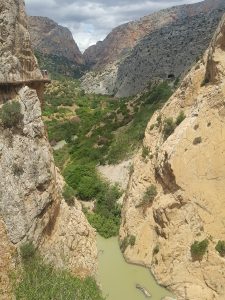 After crossing the small suspension bridge (on top of the "bridge" structure in this photo)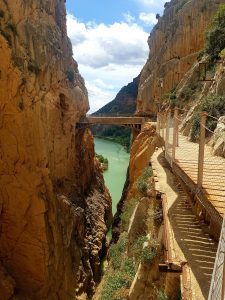 you are only about five minutes or so to the building where you leave your hard hat, and then continue walking for a few kilometres arriving in a car park BUT you need to walk through this car park, out the other side and on up the hill into the town to reach the bus stop. This is not terribly well signposted, but if you follow the above its a doddle!
When we arrived at the bus top there was a fair queue of people and this particular bus was full meaning we had to wait half an hour until the next one…….bang went our time saving! However, the next bus arrived and took us round to the Kiosko Restaurante where we again stopped for refreshments. From there it was back to the hotel where we got changed into our motorbike gear gathered our belongings, extended our thanks to the receptionist at the hotel, and headed off for our next stop.
What a fantastic day and experience, which is well worth organising if you are ever having a holiday in this area.
The route to our next stop entailed more delightful countryside eventually arriving at one of Andy & Ali's favourite hotels namely the Grazalema Hotel.
As you can see from the link this hotel has been well thought out as all rooms face the most magnificent panoramic view. It was good to park up the bikes after a pretty long but very interesting and enjoyable day and then have an amazing buffet meal and then Andy and I settled down to watch the England vs Scotland game in the Euro Championships.
Scotland were the underdogs, but we gave a good account of ourselves – I was totally calm throughout the match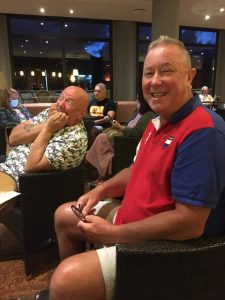 The game ended up 0-0 so Andy (English) and I (Scottish) shook hands at the end of a really good game with honours even.
19th June
After a lovely night's rest we were back on the bikes with Fenwick Tours itinerary today including a stop at the small town of Grazalema only a short distance from the hotel and have a look around/coffee etc. This really is a typical rural Spanish mountain town and although it was fairly busy it's charm shone through.
From there it was back on the bikes and up the mountain road where at the highest point the views were simply stunning. We also had the joy of being above eagles and vultures as they soared around on the thermals. We felt as if we were taking part in a David Attenborough nature programme – "wonderful" simply doesn't cover this experience.
For some reason i don't have any photos from this vantage point – but if i find any will insert into the post 🙁
From there we rode onto Zahara de le Sierra where we parked up and went for a wander around the town.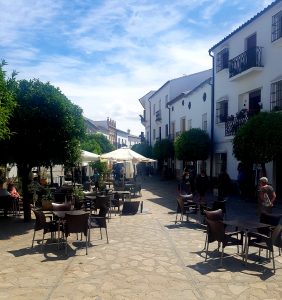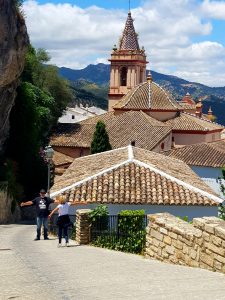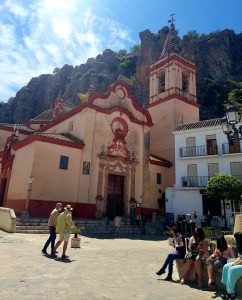 From there we decided to walk up to the castle, and upon arriving at the summit of the hill found out the castle was closed – probably because of Covid regulations.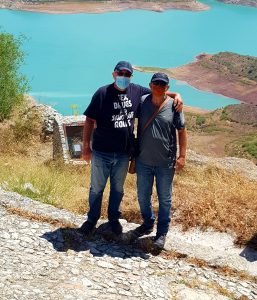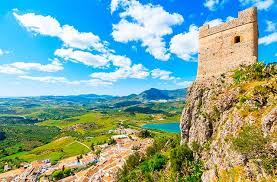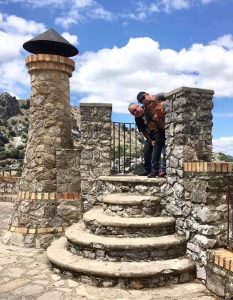 We had a light snack……….and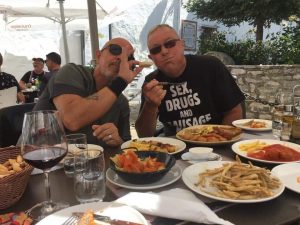 …from there it was a short ride back to the hotel after a very interesting and enjoyable day.
20th June
Today our plan was to include Senetil de Bodegas, and once again we were riding through the most amazing mountain scenery, with very few cars on the road. Arriving in the town we headed for a big undercover car where there was a large sign extolling the virtues of the EU for proving millions of euros to provide this facility? Thereby reducing the number of cars clogging up the town. I thought this was brilliant use of money and a real benefit to this rural town. HOWEVER this car park where so much money had been invested was……..yep you are correct, it was closed!
You couldn't write the script at times!!
Eventually we found a spot for both bikes and headed into the town, and what an amazing place it turned out to be.
There was one house that had been carved into the walls where the owner was accepting a couple of euros for people to have a look at the interior – and we couldn't resist.
The house is on the left of this photo;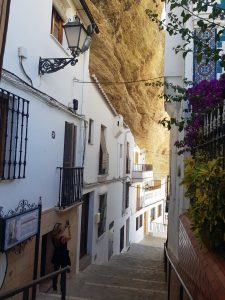 These are shots of the interior……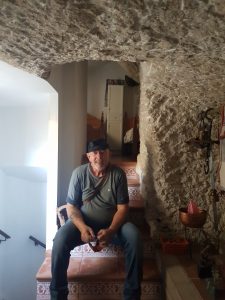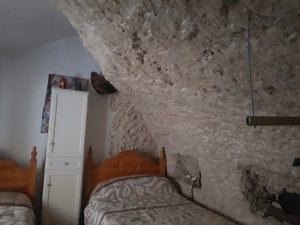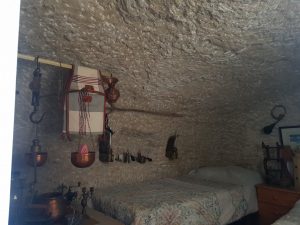 The following photos will give you a flavour of the town, but don't really do it justice.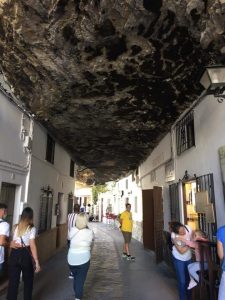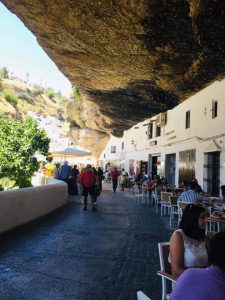 Andy and I had to go into the local bank, and only by dressing like this were we allowed in……….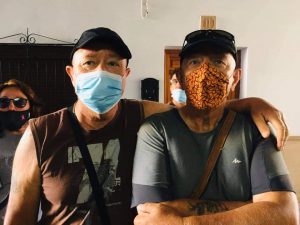 It was such a lovely place to visit, and in truth Sara and I might never experienced it, were it not for Andy & Ali including it within their travel plan.
From Setenil we had a lovely ride again through the countryside and back to the hotel, where we had a lovely meal to round of this part of the trip.
21st June
Next morning after breakfast it was time to pack up and head for home as Sara and Ali has been given their second Covid jab appointments.
So the plan was very simple, just head back by the quickest route, and as we were setting off with full tanks, we would only need one fuel stop en route. The ride back was "hot as hell" and when we eventually stopped to refuel there was welcome shade at the services and plenty juice/water swallowed to rehydrate before getting back into the bikes for the final leg.
We arrived back home a bit "sticky" and tired, but what a trip…….role on the world opening back up so that we can spread our wings further.
As I said at the beginning of this post it was all planned and arranged by Fenwick Tours, and want to close this entry with a big "thanks again guys".
Till the next time………..