With our friends Andy and Ali Fenwick we had previously discussed a motorbike trip to Morocco, and then possibly extending this to ride the "Ruta via De La Plata" when we returned back to Spain from Morocco. However this horrible Covid virus has put paid to any international travel plans for the time being….so Morocco is currently out of the picture 🙁
This being the case, Sara and I felt so frustrated and also a wee bit trapped; that we reviewed the areas and towns that the Ruta de La Plata goes through. We then decided that the route was away from the current Covid hot spots and that we that were going to do this trip. We discussed this with Andy and Ali on Sunday 9th August, and were delighted when they said they were up for it. We decided to head off on Tuesday 11th August….not much preparation time but heigh ho what the hell. The plan was to head north and do the trip from there to the south.
On the Monday evening I looked at the weather forecast and it showed storms and heavy rain on our proposed route north. This was discussed on a phone call and we simply reversed the route, and would now be going from south to north with only the first night stop to consider……… "Let's head for Cordoba" said Andy …..so that was it, decision made !!
Teulada to Cordoba
Tuesday morning duly arrived, and bright and early four people, two fully fuelled Harley Davidson touring motorbikes met in Teulada car park (0600) and headed off with broad smiles.
We had decided to head for Cordoba by the quickest route, and this was getting more and more important as the skies began to darken the nearer we were to Cordoba. However we were all pleased and relieved to arrive at the Hotel Macia Alfaros (booked the night before) park the bikes in the undergound car park, then out to explore the town.
As Andy and Ali had been here before they knew their way around, but as we were exploring the old part of this amazing city the skies were getting darker and darker and whilst sitting outside in a cafe/bar the rain started, slowly at first but then the heavens really opened. Everyone outside was trying to get inside, albeit it was a small place. As Andy was heading in the hailstones started and he was hit by hailstones the size of small pebbles …."ouch" he was heard to cry…..or something similar as he thought he had been shot!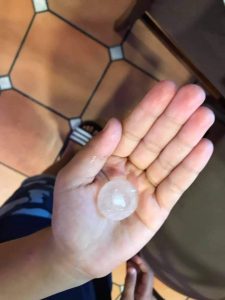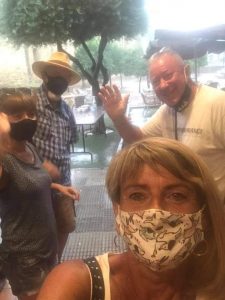 We waited in this cafe/bar until things eased off a bit and then headed back towards our hotel, but en route the rain started again so we dived into a small restaurant for both shelter and food. The shelter was welcome but the food was, and i am trying to be kind, somewhat below average. Indeed when Ali's main meal was presented to her we heard her immortal, and oft quoted line of "Reeeaaalllyyy" clearly everything was simply poor quality frozen food, and forever this establishment (its hard to call it a restaurant) will be referred to as the "Findus" place…….a bit of a slight on Findus, so apologies to them! The rain finally stopped and we headed back to the hotel somewhat tired as it had been a long day. But this didn't stop our adventurous spirit, we regrouped at the hotel, and as we hadn't booked accommodation for the next night there was lots of discussion on our next stop. We eventually decided to book en route tomorrow and headed out into the city once more.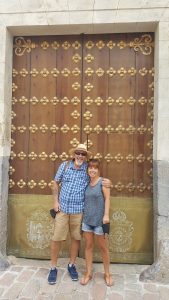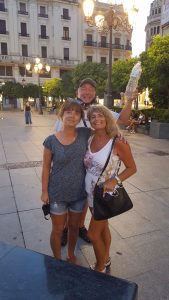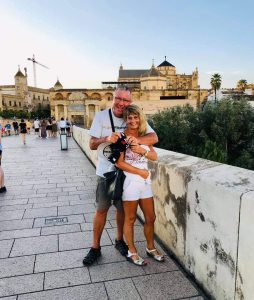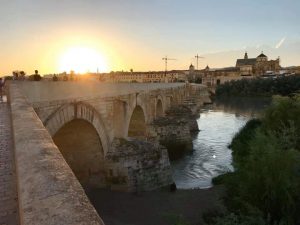 Now the start/end of the Ruta de La Plata is in Seville, where one can pick up, at the tourist office the "passport" for the route. This passport has the names of all the towns on the route and every tourist office or Ajuntament office will stamp the page.
This does at first though seem a bit childish, but in truth it makes it all a bit of fun and encourages people to visit towns they might otherwise miss. We decided that we would not collect these at Seville, preferring instead to collect them at Carmona, have breakfast/coffee a look around the place and then head off.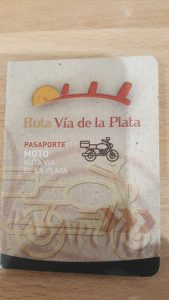 Cordoba to Zafra via Carmona
Riding towards Carmona this morning Sara and I noticed this weird light "thing" in the distance off to our right. It was on the ground, not in the air and we couldn't figure out what it was but it looked like something out of a sci-fi movie. When we stopped for fuel we asked Andy and Ali if they had spotted it, which they had, but like us they were stumped as to what it was……the only thing that makes sense is that it might have been a massive Solar Tower complex but that is the other side of Seville.
With the main tower being 40 storeys tall, it might have been as the land is flat in this area! ….if not, we obviously witnessed a Spanish equivalent of Roswell 😉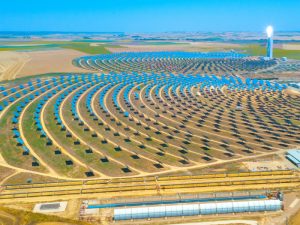 We arrived in Carmona, and whilst all of us agreed that Cordoba was lovely, exploring Carmona is equally as interesting, and it just "feels" a wee bit better. We went first to the Tourist Information Office, where the ladies could not have been more helpful or friendly. They gave us our passports along with the first stamp.
We then walked around and had breakfast in the square in the old part of town. The food was lovely and matched by the service of the jovial owner. After this we explored a bit more, but unfortunately we were so busy soaking up the atmosphere that we didn't take many photos. However here is one of Sara and Ali outside the Parador in Carmona which sits proudly at the top of the town.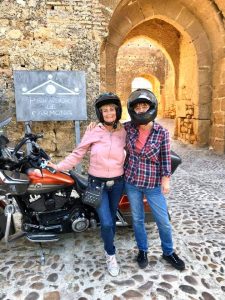 The motorbike route from Carmona, as you can see in the following photo taken from moto leaflet (which we didn't have at the time, more of which later)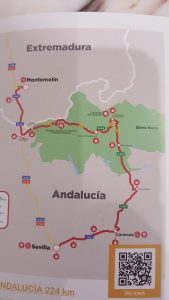 takes you along the A457 & A455 and this also illustrates fuel stops en route. From reading other information we knew there were two points of interest noted on this route, one being an area with waterfalls and the other being a mirador with a cast sculpture of a Wolf. Most of todays route would, as you can see, be through the Sierra Norte.
This turned out to be fantastic bike road all the way to the Cascades de Huelznar (waterfalls) where upon arrival we found the car park closed with a chain across the entrance. Thinking this was down to reducing numbers re Covid, we parked the bikes and walked the paths to the waterfalls.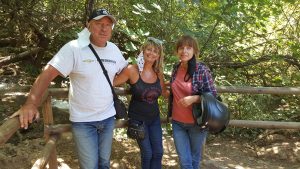 On the way we noticed that had we continued around the next bend we would have found the new? car park. This was full of cars and lots of people. There were signs everywhere saying no swimming, but this being Spain this was ignored – ditto for some people when it comes to wearing masks! To be truthful the waterfalls were not as spectacular (sic) as we expected, and given the above we decided to get back to the bikes and head off.
I can see why this route is for motorbikes and not cars as its pretty narrow and twisty. We rode along this for miles and miles without seeing any road signs. this caused us a bit of doubt and wondering if we should have turned back to the main road from the waterfalls, but we decided to keep going. This proved to be the correct decision and we were blessed with lovely twisty roads and very little vehicle traffic.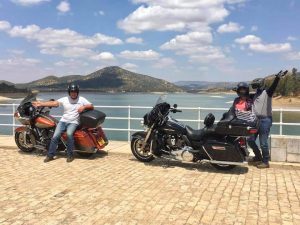 Now at this juncture I have to say that whilst i have ridden motorbikes since I was a teenager, I am fairly new to Harley Davidson's (Andy has been riding Harley's for years) but these big tourers that we have are heavy old bikes, and this, coupled with rider, pillion and luggage comes to over half a metric tonne! That being said, they handle extremely well considering this weight, and are are absolutely fine riding through these twisties……, if the truth be told, it's hard to get the smile off my face at times!
Anyway back to the route, (SE-179) after riding for a couple of hours we pulled in at the Mirador (viewpoint) that had the casting of the Wolf, with the correct name being Mirador de Sierra Padrona. This was a relief as it was now clear that we were indeed on the right road. Here we stopped for a much needed drink of water and for a certain pillion,……Haribos.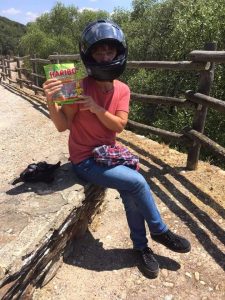 What a viewpoint, it was lovely and we had a bit of a giggle/chat and mess around for about half an hour before heading off again.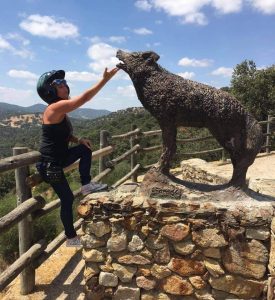 You can see how determined Andy was, as he has managed to fit the wolf statue onto his bike….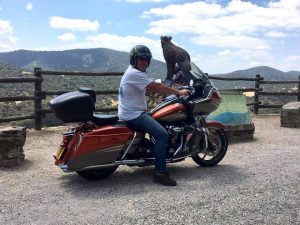 We were at this point, glad that we had enjoyed a large breakfast in Carmona as eating establishments etc on this road are non existent. From the SE-179 the route goes onto the SE-177 and we followed this into Santa Olalla del Cala where we stopped at a roadside restaurant/bar for much needed cool refreshments and lots of coffee. Sara and Ali got the mobile phones out while we were here and started looking at possible accommodation.
Now as the town of Montemolin is on the passport we thought it would be supportive to stay somewhere in that town. However from the information online it was hard to tell if they had safe/secure parking for the motorbikes, so we decided to ride to Montemolin and check it out for ourselves. This town was so quiet/closed and had a one way traffic system, so Sara and Ali headed off to check for accommodation whilst Andy and I waited with the bikes. When they came back they felt that owner of the accommodation had been particularly unhelpful and rude. This beggars logic as the whole idea of the route is to increase revenue for establishments along the route……as out American cousins would say …go figure!!
The decision then was simple, go online and book into accommodation in Zafra which was only another hour or so further on. We booked into the Hotel La Muralla, which had secure parking in a rear courtyard.
For some reason this hotel only had one star, (two on booking.com) but it was spotless, lovely inside courtyard, excellent service and courtesy. We have all stayed in four star hotels that could learn a lot from this place.
This had been another long day, but this is not a complaint, todays bike ride was superb on every level. So it was simply shower time, change, and out into town. Zafra is another lovely place and after a walk around we decided to eat in a restaurant in the main square.
The attention to detail in ensuring tables and chairs were all sanitised, QR code menus fitted on the tables, cheerful service and high quality comfort food, ie. burgers and chips ensured that the end of the day matched the rest of it…….simply fantastic!
In the morning we had another walk around town and as you can see in the following photo, there is some sort of spraying arrangement in the shopping streets…….not sure why!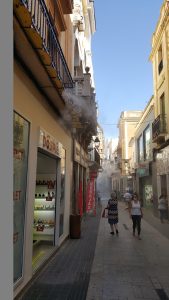 We duly found the Tourist Office and waited for it opening.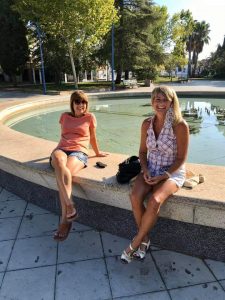 Once it opened we had our first stamp in the passports since leaving Carmona. Then it was back to the Hotel, pack up the bikes, get them out of the secure parking, and headed off into more glorious sunshine.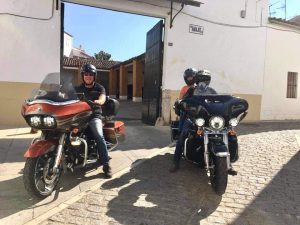 Zafra to Merida
This was going to be a short day, given our long one yesterday. Our first port of call was the Tourist Information Office in the small town of Los Santos de Maimona to "collect" our next stamp. We couldn't find any signs for this office, but we ended pulling up in a square with the local police pulling in beside us (Why when this happens do i feel I am in trouble?) I politely apologised for stopping our bikes here, and explained that we were looking for the Tourist Information Office. He just smiled, said no problemo, and pointed to the building right next to us. I will leave you to guess what I felt like at this point!
This photo by Daniel Perez Sarria (from Tourist Info Facebook page) shows the square albeit at night.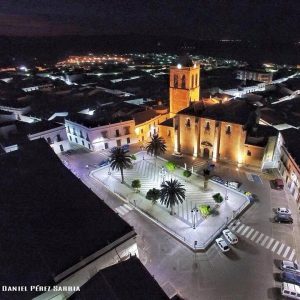 Trying to find a way out of this square and back to the route was like something out of a comedy sketch, my sat nav system was having a fun time to itself, and as anyone who has travelled in rural Spain will tell you, road signage is not an exact science – if it exists at all! We finally found the correct road out of the one way system and headed off towards Merida.
Now I am writing this blog entry with the value of hindsight and experience, and have to explain a few points that will prove useful when you ride this route. As you know this trip was decided at very short notice and with no real detailed information on the roads to be used. We naturally assumed this would all be well marked, and it is well marked BUT the road signs are primarily for cars NOT for motorbikes.
When we finally arrived home there was a lovely leaflet showing the "motorbike route" which pretty much follows the N632 with certain exceptions.
Therefore, there are in actual fact four Ruta de la Plata options these being whether (1) Driving a car, (2) Riding a motorbike, (3) Walking and (4) cycling. My tip would be to go online in advance of your motorbike trip and request the "passport" and leaflet for the "Ruta via de la Plata en moto" to be posted out to you in advance of setting off.
Neither Andy or I like riding on motorways/busy dual carriageways if they can be avoided, but on the way to Merida we ended up on and off the A66 due to our ignorance of the above. It was a pretty frustrating day in many ways, especially after such a fantastic ride the previous day.
We duly arrived in Merida and headed for our next hotel Hotel Nova Roma which had a super secure garage next to the hotel for the bikes.
The reception staff at the hotel were not exactly welcoming, nor were they particularly ignorant, we were simply processed by nonplussed staff.
Anyway, got settled into our rooms and then headed out to explore this town which has lots of Roman history and architecture from the famous theatre (the entrance to which also houses the Tourist Information Office, where we had our passports stamped ) to the ancient bridge leading to the Alcazaba and just outside on the roundabout is the famous statue of the Capitoline wolf suckling Romulus and Remus …..it really doesn't get more Roman!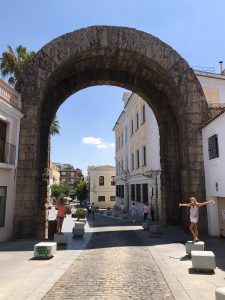 At night we explored more of the town and had a cheeky wee ice cream while sitting opposite this amazing building all lit up.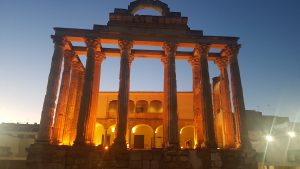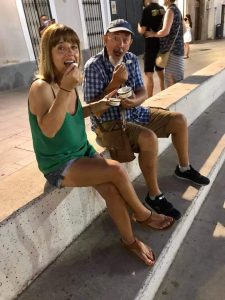 In the morning we all met up for breakfast, only to be met with more "nonplussed attitude" in the restaurant, I wonder at times if people are actually in the right type of business. Anyway the bikes were duly loaded up and off we headed into the beautiful sunshine, with the next overnight stop booked at Banos de Montemayor.
Merida to Banos de Montemayor
Our first destination today was to stop in Aldea de Cano and obtain another passport stamp. This is a good example on the benefits of the passport system, because without it being listed, we may well missed this absolutely delightful town.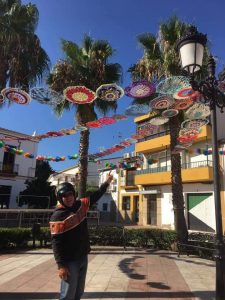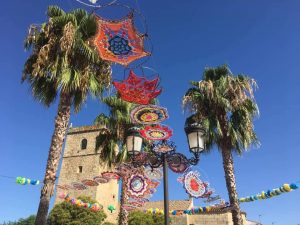 Next town on our list today was Casar de Caceres, on the way into the town we saw the signs for the Tourist Information Office, but then they disappeared completely. We pulled the bikes into a suitable stopping place while Sara and Ali headed off to find the office on foot, and they came back suitably chuffed at having found the office and collected another stamp 🙂
From there we set off missing out the A66 and the N630 and taking the route shown on the above map, this turned out to be a super bike road through interesting and varied countryside and we passed this huge solar farm which i believe was the Núñez de Balboa solar complex quite amazing to ride this road with so many solar panels either side.
We were all loving this road, and enjoying the ride through the Parque Nacional Monfrague when suddenly we went around a bend and there were cars parked up at some kind of viewing platform, so we pulled in to find out why so many people were there!
Well, we were all stunned at the beauty of the place called Salto de Gitano, and stunned/in awe at the numbers of Vultures and Eagles flying around.
Amazing sight!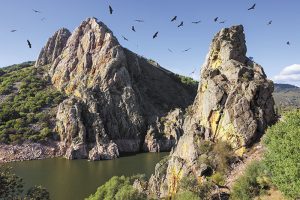 Two Angels not Vultures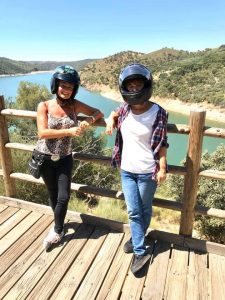 Two bikes having a breather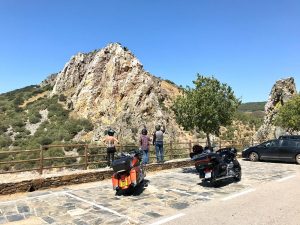 What a special place, and an unmissable stop if you are ever close by or indeed riding the route.
Our next stamp stop should have been Hervas, but we missed the cut off and decided just to keep going to Banos de Montemayor as we could double back the next day to get our passports stamped.
We had booked into the Hotel Rural Eloy which had shaded parking for the bikes, and what a lovely friendly welcome from the owners. The rooms were spotless and everything was neat and tidy. Only downside was that the restaurant was closed tonight, but in chatting with the owners they were happy enough for us to bring back food from the shops later this afternoon and have a carpet picnic in their delightful external patio area.
We headed out to explore this relatively small town, and were taken aback at the sheer number of youngsters walking about. There just seemed to be too many for the size of the town……we couldn't figure it out……so if you can shed any light on this please let me know.
We found a shop that sold insulating tape so that we could tape Andy's bad finger to another for support. Poor guy has been struggling with this from the off, and Murphy's Law being what it is, its on his front brake hand !!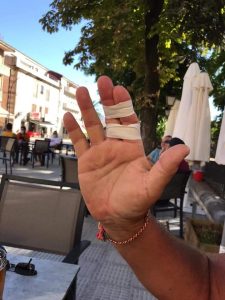 Duly taped, Andy was keen to find the old Roman road, so we searched around and funnily enough we found it exactly where they had left it.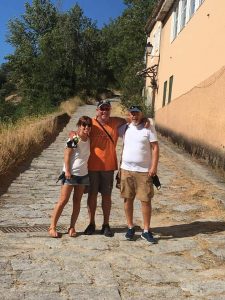 We explored around the town, visited the Tourist Information office for the passport stamp, and then stopped for a drink to kill time until the food shop opened. Sara and Ali headed off to buy the food for tonight while Andy and set about putting the world to rights.
Once the food had been procured we headed back to the hotel, and while setting out the food in the patio area, the owners came out and provided us with plates glasses etc – they simply could not have been any more friendly or helpful.
When we were finished eating we wanted to wash up the crockery and cutlery we had used, but they wouldn't hear of it, they took them all away while we rounded off our evening with lots of laughter.
Next morning we met up for breakfast, and the owners themselves were once again bang on the money with service and courtesy. However the woman helping out in the restaurant at breakfast was sadly not up to their standard, surly attitude, burning toast and hiding under non burnt toast and serving this to customers. Such a shame as up until then we had been scoring this hotel 10/10……this person clearly lets the side down and hopefully will have moved on by the time you read this blog.
From here we nipped back to Hervas to collect the stamp we missed out on yesterday. What a delightful busy little town this proved to be, and we were pleased that we had doubled back.
Banos de Montemayor to Zamora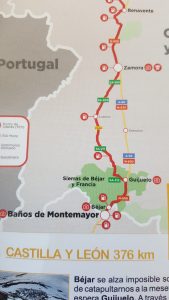 Our next stop was in Bejar to once again collect another stamp in our passports, but in truth todays trip was bit of mess as my sat nav system was once again doing its utmost to torment me. We ended up on and off the main A66 trying to ensure we were heading in the right direction as the A66 has lots of signage for cars doing the route.
This led to lots of personal and group frustration and exasperation, and I for one, wished I had the moto leaflet with us at the time – O' how simple it would have been then!!
On the way we decided to nip into Salamanca (love that name) and have a quick ride round the historic part of the city. We found an open area to stop the bikes, and within mintues the police were passing in a van telling us to move on. We explained we were only going to be there a few minutes – a wee bit of a white lie – but heigh ho!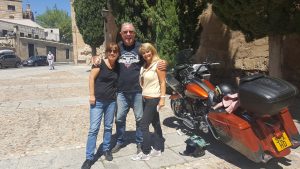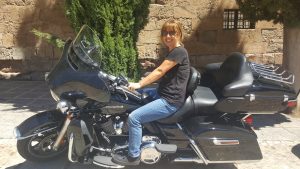 We then took turns at nipping across the road to look at the following buildings,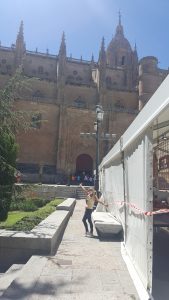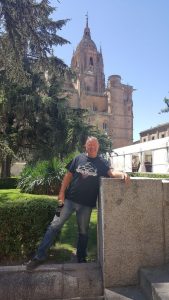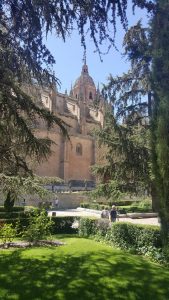 This is definitely a city on the "must revisit" list, but we had to get back onto the bikes and head out of the city and on with the journey.
We finally reached Zamora and I had take this photo as a bit of a private joke with my grandson Reyce.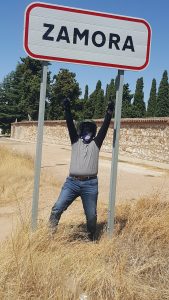 We had booked into the Hotel Horus Zamora where once again we were met with a surly attitude, almost as if we were an inconvenience and the receptionist was doing us a favour! It is in a good location, and it has secure underground parking but dear o' dear they could learn a lot from the owners of the Hotel Eloy in Banos de Montemayor….enough said.
Its only a short walk from the hotel to the square, where we asked a policeman for directions to the Tourist Information Office, these sounded a bit complicated but were in actual fact straightforward, and the passports were duly stamped. We then had a good walk around the town and found some unique pieces of street art etc.
Some people were getting a bit silly……but no names !!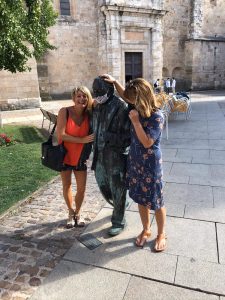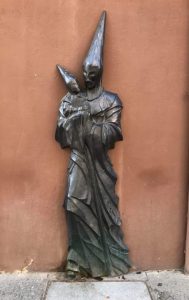 Here is a real Battering Ram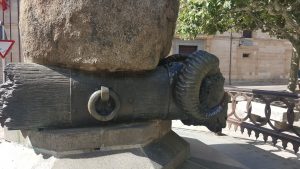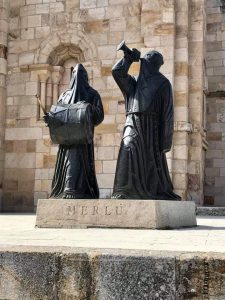 At night we fancied a meal in a Chinese restaurant, but the one we had walked to was closed. Andy had been peering through the window when an employee turned up and he asked them when the opened – now was the reply – Andy's response was; right then – a table for four – this was so funny for the rest of us to witness. The company was superb but the meal sadly was decidedly average, so we headed back to the square for Andy's favourite frozen yogurt shop SMOOY as a wee treat!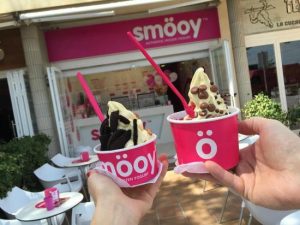 During this we discussed the worsening Covid situation further north and decided against any further travel in this direction. This naturally would mean the end of the Ruta de la Plata for this year, but we will return one day to complete the route as its been an absolute blast, and we are all so glad we decided to "just do it"!
Below is a record of the towns where we had our Ruta de la Plata "Passports" stamped, and just looking at these stamps makes us all smile when we look at them because of the associated memories.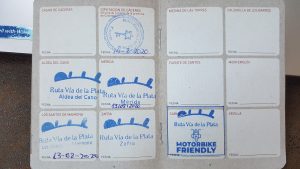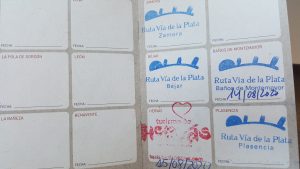 This did not however, mean the end of our holiday as it was suggested by Andy and Ali, and agreed by us, that we should head for the town of Segovia in the morning.
Zamora to Segovia
This morning we set off energised that our motorbike holiday was continuing, and pleased to be leaving Zamora behind. It was interesting enough, but no ones favourite town.
We decided that we would follow Andy as his sat nav is working better than mine and off we headed into rural countryside. Its simply staggering the sheer amount and size of the irrigation equipment working in field after field. The other amazing sight today was the sheer number of Storks nests built on electricity pylons, and the really peculiar thing is all the nests were built on the same side of the pylons, and there were lots of them!
After we had been riding for a while, the "fancy a coffee" hand signal was used by Ali and I pulled up alongside and indicated that I needed to get fuel and coffee. We had at this point been riding for a long time on small country roads without having passed any fuel stations, and therefore I thought it prudent to fill the tanks asap.
We eventually saw sign for fuel, pulled off the road and into the garage and filled up both bikes. We then asked the chap if there was anywhere nearby to get a coffee, he said he had a vending machine on site and seemed somewhat miffed when we said that we would prefer a cafe. He said in a grumpy manner that he didn't know any cafe's in the area.
We jumped onto the bikes and nipped into the village close to the garage, and lo and behold, we found a cafe. They served lovely strong coffee, but sadly no food. This is the kind of place we like to find as its part of the whole "absorb real Spain" experience.
We couldn't stop Andy remonstrating with one of the locals about the merits of Mike Ashley and Newcastle FC!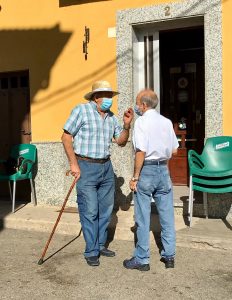 Duly refreshed we headed off with the thought of stopping at the first food stop that took our fancy. The countryside was still clearly farmland but charming at the same time. We had been riding for a while and passed a restaurant and Andy pulled in a few hundred yards further on, but we decided to head on a bit more. Then after a few miles we happened across the Hamlet/Village of Aldeaseca and stopped at Bar Picoteo. This is just to side of the road we were on and had easy parking for the bikes. The owner was extremely welcoming which was lovely, and we ordered his fixed menu del dia (menu of the day) which turned out to be lovely and most welcome as we had not had any breakfast.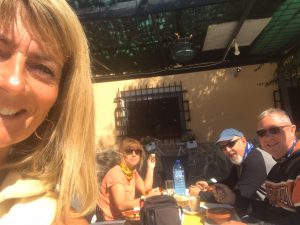 Now during this meal it was clear that someone else had not had breakfast and decided to join our table. Luckily for Marmaduke as he was duly named by Sara, (and had ULT's) we had a tin of pate left over from the carpet picnic in Banos de Montemayor………….which was gratefully received by Marmaduke along with lots of petting.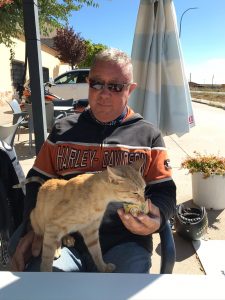 When we left, both Andy and Marmaduke had tears in their eyes. Marmaduke was so traumatised and could not believe he was being abandoned by this heartless biker 🙁
This is how Marmaduke viewed Andy for his treachery…..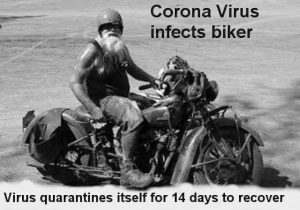 From there we headed for Segovia feeling much better and energised after the food. None of has been there before, but one of Andy's mates had said it was super, and he also suggested a restaurant that has to be tried.
Entering the city we arrived at the spectacular Roman Aqueduct…….and it is just that…..spectacular!
We parked up in front of this to figure out which road would take us to the city centre hotel that we had booked.
Here is Andy, not content with fitting the wolf to his bike as per an earlier entry in this blog, he has surreptitiously managed to now fit a satellite dish!!! There is no end to this mans talents 😉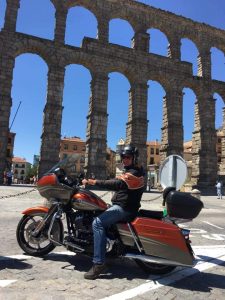 We figured out where we needed to go and headed up to the Hotel Isobel Infanta, which is a superb location, and provides offsite secure parking. This hotel is also in the area where no vehicles are allowed, unless you are going to a hotel where you need to unload and then go and park up somewhere out of this area. So having parking included as part of the deal was a real bonus.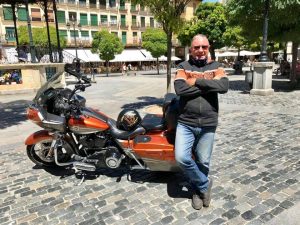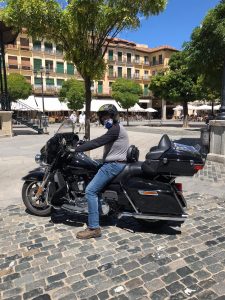 Butch Cassidy and the Sundance Kid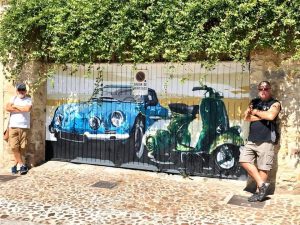 We had booked two nights in this hotel and I could witter on sounding like someone from the Segovia Tourist Board about its beauty, but hopefully some of the following photos will give you a flavour of the city;
Nightime; The Cathedral just across the square from our hotel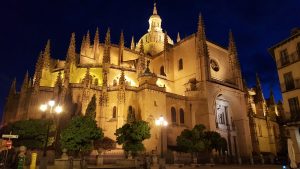 Aqueduct at night.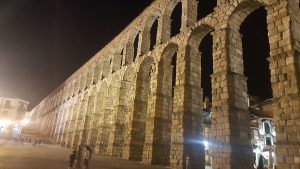 Table with a view.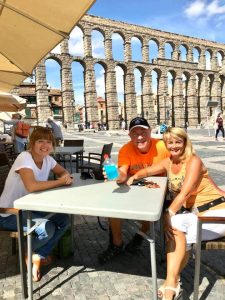 Shopping never stops…..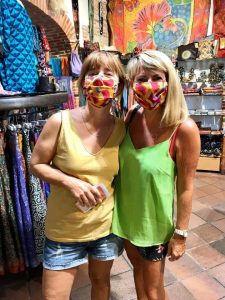 Neither does the feeding…..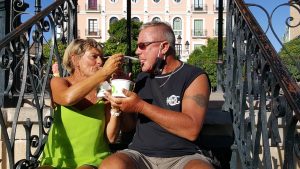 The Alcazar is simply a stunning building with lots of history. I've used a link to another website here as it's difficult taking any photo that captures the building fully.
The aqueduct sweeps across the city as you can see in all the photos, like the one below….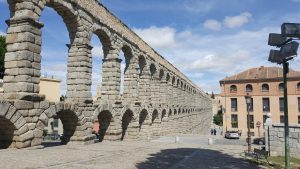 ….and then it curves around the city and reaches road level. We had fun thinking about the size of water channel this huge structure would have, and before you scroll down any further, what size of water channel do you think is carried?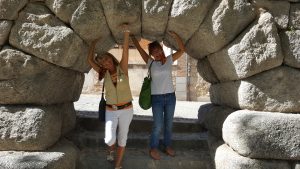 Well as you can see from the following photos, it's not as big as we all thought;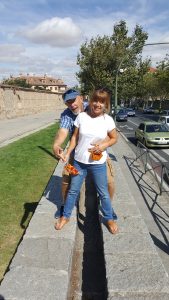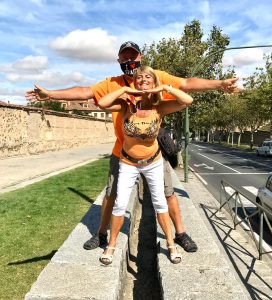 Nor is it as deep as we thought !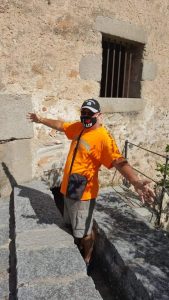 Segovia – Aliva – Segovia
This morning we headed across the square for breakfast, where someone got a wee bit carried away, and like Oliver Twist and wanted more, ……wonder if you can guess who it was…….nope, it was Andy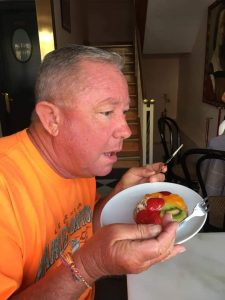 Then it was back to the hotel where we asked reception to organise someone to open the garage (about 150 yds away from the hotel) and we were told to go round there in 5 mins. When we walked around, someone was already there driving the cars out. To explain, picture a normal garage that will take three cars lengthwise with an offset space at the top and bottom. Our bikes were in each of these spaces, and the cars had to be taken out first before we could get the bikes out.
Real friendly happy service, excellent.
We were heading out on a day visit to the city of Avila where we rode right through to the old part, parked the bikes up and went exploring. Our plan was to walk along the city walls but these didn't open again until the afternoon, so off we went meandering through the city streets. Inside the old walls of the city is no museum, its a vibrant place with residential properties, historic building, with the butcher baker and candlestick maker all making a living.
After exploring a good bit of the city we decided to have lunch in a restaurant in the Plaza de Teresa Jesus, which was not busy and not far from one of the main gates which had an entrance to the walls at the side. After lunch we walked back up to the entrance and found a queue had already built up. This queue was socially distancing, but the line was running alongside a restaurant and the owner was certainly not a happy man, and we could understand why given the current situation.
I don't know if the walls are normally open all day or whether the current situation has made them change their hours, but it seems weird having a major attraction closed for a chunk of the day, when there are tourist around, albeit in reduced numbers. Anyhow the queue started moving and we duly (and patiently) crept along and finally reached the desk to pay our entrance fee, only to be told by the lady at the desk that we couldn't walk all the way around the walls, she did try and explain the reason but we didn't really understand….this is our failing in understanding Spanish/local language.
There a completely different perspective of the countryside from the castle walls, and to be honest, there is a fair bit of it open for visitors.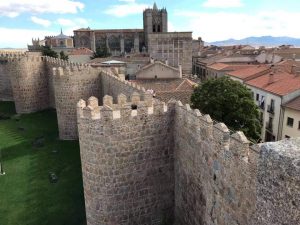 Our trusty steeds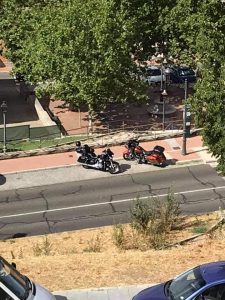 It was then time to head back to the bikes and get refuelled before heading back to Segovia. There was a garage just down the road from where we had parked the bikes, so this was easy enough. From the garage we were basically retracing our track back alongside the wall when a Guardia Civil Officer stood on the road and directed us into a small layby, (we could almost hear Ali telepathetically saying reeeaaallllyyy!!) where there stood a further four Guardia officers all with guns strapped to their sides and looking very officious. Let me tell you this was a strange and unsettling experience !!
One officer was focussed on Andy and Ali's bike while Sara and I sat behind them on ours wondering what was happening. At the same time we were trying very hard to capture what the officers were saying to each other (naturally in Spanish) in an attempt to understand why they had stopped us, as we certainly hadn't been speeding or doing anything untoward. It was, in all honesty one of those situations where it was a case of helmets off, facemasks on, and lots of yes sir, no sir attitude!
They seemed to be totally focussed on Andy's bike with his UK number plate, he was trying to explain that he had applied for the bike to be registered in Spain and was awaiting a date from the authorities. This this didn't seem to be making any difference to the situation, with the single officer constantly deferring to the other officers. He then came to our bike and asked if we could speak Spanish, we replied a little, and he asked us to get off the bike – what the…..
He gesticulated at my Spanish number plate and then the penny dropped. The Spanish number plate has the letter E for Espana, but Andy's number plate didn't have a GB on the plate or – and this was the point, a GB sticker anywhere on his bike. We were all very polite and explained that in the UK it wasn't a legal requirement to have a plate with GB on it, knowing full well it should have had one fitted, but being uber polite. Then we heard one of the other officers mentioning Andy's face mask which as you may have noticed, has "I love Spain" on it with a big red heart. Now we are not sure, but we believe this was actually a training exercise for the officer, and we also believe that one of the others was basically saying you can't really book the guy as he is wearing a mask with this statement on it. Andy was at the same time, being apologetic and saying he would get a friend to post out a GB sticker and fit it to his bike until his Spanish Plate was issued…….all in a friendly manner accepting he was in the wrong but not knowingly. The upshot was they told us to be on our way……Jesus, it was a relief to pull out of that layby and get back on the road.
Arriving back at the hotel in Segovia, it was the reverse procedure to get the bikes back into the garage, then getting ready to head our for a meal at the restaurant previously suggested by Andy and Ali's friend.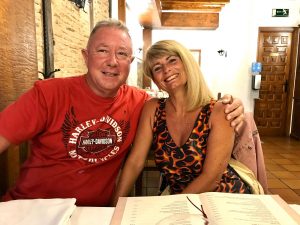 The waiter we had was so funny, and in truth a wee bit "Faulty Towers" but he made us feel so welcome, the whole ambiance upstairs was typically Spanish and the food was most welcome and tasty. Best bit though was the laughter and teasing about Andy and Ali getting pulled in by the Guardia earlier in the day. From there we walked down to the Aqueduct for a final look at night…… followed by another frozen yogurt, there's a bit of a theme building here 🙂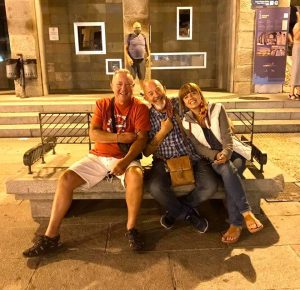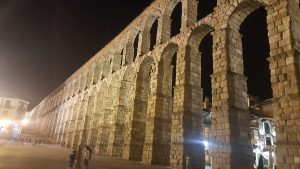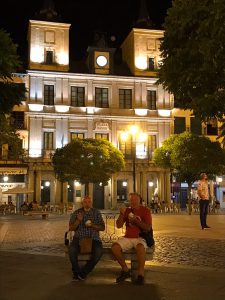 Segovia to Albarracin
Todays countryside was much the same, mainly agricultural but it was yet another perfect day riding motorbikes in glorious sunshine and clear blue skies – life just doesn't get much better. En route to Albarracin we stopped for our customary coffee and croissant, topped up the tanks and then rode off again.
Today Andy was in front using his sat nag and for some reason best known to itself it had us riding over this mountain road on which the surface was deteriorating and the road getting narrower, I thought if this gets much worse we would be better off with trials bikes instead of the leviathans we were riding 🙂 However we safely made it down and reached our destination, but our challenges hadn't ended…….
We had booked into the Hotel Arabia and when we arrived in Albarracin, Andy's sat nav had us ride up this steep narrow hill to the hotel where we precariously stopped the bikes to unload the panniers. Then Sara and Ali headed off to book us into reception which we assumed was on this top level of the hotel. Meantime Andy and I were wrestling these heavy bikes in a tight area trying to park them where they wouldn't get damaged all this on a steep slope with a cobbled surface…….sheesh.
The girls then came out to say that reception was actually on the bottom floor of the hotel (click the link above and you will see the height difference from the top to bottom floor) and there was a level car park opposite the hotel.
"O jings" I heard myself say !!!
Now Andy had his bike in a better spot than mine, so I said I was going to ride down to the car park at the bottom. This entailed more wrestling and turning the bike, and I was building up a bit of a sweat, but relieved when I got the bike turned around 180 degrees and headed off down to the car park where I luckily found a space. I then walked across to the hotel and found there was a space in the hotel grounds, right at reception/restaurant, where the bikes would fit.
I suggested that Ali tell Andy the parking was much safer down here, and of my intention to move my bike into this space, and then stand at the side of the road to show Andy where to pull in, all this was duly accomplished and the bikes safely parked up. Moral of this story is, if you are ever riding a bike and stopping at the hotel DO NOT go up the hill, as it will save your blood pressure getting too high 🙂
Rooms were lovely, and we all met down in the terrace where we had a few drinks, and whilst we had only booked for one night, we asked the chap if we could extend it to two nights. He wasn't sure as they were busy, but he went away to check. We were relieved when he came back and said yep another night was OK. We then decided to go to the shops, pick up some food and have another carpet picnic on one of the outside terraces of the hotel. The lift in the hotel is a boon whether going up to go to the old part of the town, or down to the small supermarket.
This is the hotel entrance at the top of the hill near where I almost had cardiac arrest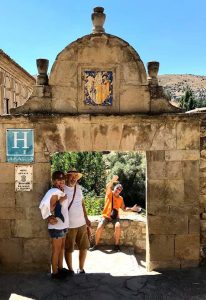 Having booked a second night made us all unwind a little more and we headed off for a look around the town, which is an absolutely amazing medieval town. Its more amazing that there are no power or telephone cable to be seen on the walls which makes me think it might be used for period films/TV programmes.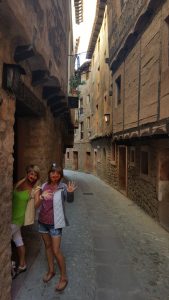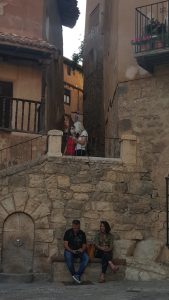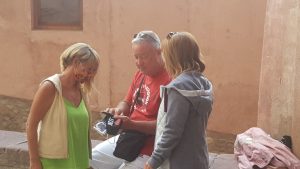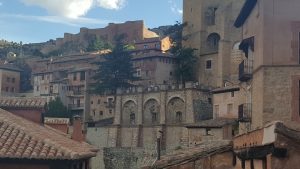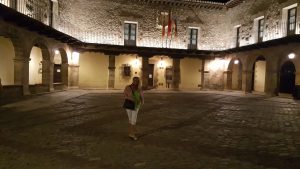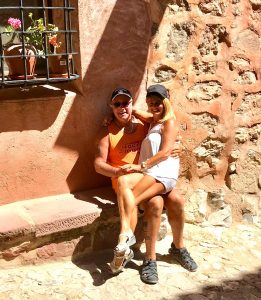 As Andy and Ali had been here before they knew their way around and we had a good walk around the town while they reminisced about their previous visit.
Next morning during breakfast we decided we would walk around the city walls, and hopefully the following photos give an indication of how lovely the scenery is around the town.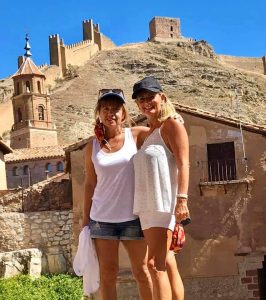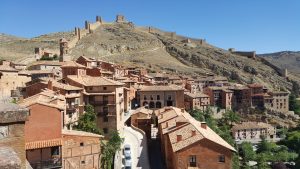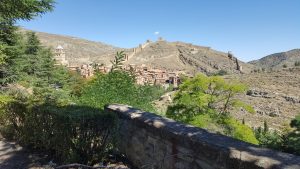 Our hotel from above;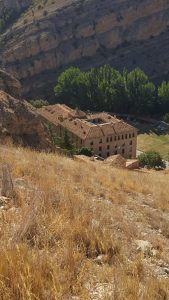 Fearless Ali……..reeaaaallllyyyy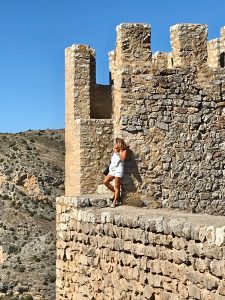 At night we ended up in a restaurant in the old town, where we all had pizzas, a few drinks, a final walk around the town and then back to the hotel having enjoyed our two days immensely.
Albarracin to Chulilla
This morning, after our breakfast we set off trusting ourselves to Andy's sat nav, and it weaved us around some small country roads (CV 330A )until we ended up in a small hamlet Val de la Sabina and stopped two ladies to clarify/ask directions. Well this set of heated exchange of views between them both, then another lady appeared on a balcony asking what we wanted and then she joined in the cacophony of noise. Then one more lady appeared on another balcony asking questions, but didn't join in the exchange of views on the right way to go :-). Finally a guy came out of his house and asked us where we were heading for, (the ladies were still "discussing" options) he said back up the way we came, take first right over the mountain, then when we cross a small bridge turn right to a village called St Miguel…… turns out this is the CV363.
I think this is the most excitement this hamlet has ever had, with two big noisy bikes and four foreigners seemingly lost. It was such a funny experience, and we loved them all for their efforts at helping.
This road the CV363 was a simply superb mountain road with stunning views and lots of twisties, hairpins etc a fantastic bike road, and once again these big bikes were fine on these roads. By the time we pulled into Puebla de San Miguel we were in need of a coffee, albeit we were all buzzing after such a great section of road.
We found a local cafe, filled with locals sitting outside, and between them and the owner we all had a good laugh even though we couldn't fully understand each other. It was more the international language of friendship and courtesy, even though the owner forgot the peanuts about four times, much to the amusement of all…….really great stop.
We then headed back onto the CV363, and I simply don't have a good enough command of The Queens English to describe the road to Chulilla (Chew – lee – ya) . This route CV363-CV350- CV345 – CV395 is the best motorbike road I have ever ridden full stop. It simply has everything you could want, climbing up one mountain, looking at the road descending and then up the next, – fantastically exhilarating !!
We arrived in Chulilla (Andy and Ali had been here before by car from Valencia direction) to find it really busy with traffic and people. We stopped the bikes in the centre of town and had a coffee and sandwich in the square. Andy and Ali knew of a river walk, and also where to park the bikes so that we could change out of bike gear into cooler clothes for the walk. This was lovely, and at the end of the walk there is an area where there appears to be a small dam and various shapes cut into the rock. The following video will do a better job than me in describing this area. There are photos and more information on the town in the link above.
We then walked back to the bikes, changed into bike gear again and set off for our accommodation that was listed on Booking.com as being a few kilometres from Chulilla, but first things first we all need a water stop as we were boiling. At our second attempt we found a restaurant/bar that actually stayed open to serve us. To explain it must be a family place because as he was serving us his family were shouting him in for his meal, he was quite cool about things and we paid him along with a decent tip for being so accommodating.
Duly refreshed, and with my sat nav working again i took the lead for the couple of kilometres to our B&B Amarain Casa Rural but this turned into a lot more than a few kilometers as we were riding over hills/mini mountain type roads, and then I heard a blast on a horn and stopped for Andy to pull alongside " Dear chap are you sure we are on the correct road"? or words to that effect. In truth we had no real option but continue to the end of the road. There we found the signs for Gestalgar where the accommodation was, and I suppose it IS only a few kilometres as the crow flies, but by road a good 20-25 mins.
When we arrived the owner was there and gave us a good welcome, but explained he had no parking on site for the bikes and we would need to park in the pub car park round the corner – not ideal. We had booked two rooms, one with air con which we blagged and the other with a fan. Its fair to say these rooms are "compact" and I could hear in my mind a massive reeeaaaalllly coming from Ali. She was in the words of our illustrious Queen Victoria " Far fae chuffed"
Turns out both rooms were a similar size, or as Ali prefers to say, both wardrobes were of a similar size 🙂
This was a shame as it was our last night, and the atmosphere was a bit sullied until we went to the restaurant and after a few drinks the world came back into balance. Andy on Bacardi and Coke and me on Fanta!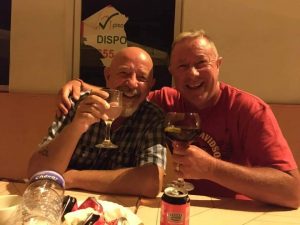 We had a late check out and decided to take a walk along the river bank before leaving, and I have to say it was a lovely walk and similar to the one in Chulilla, with the girls taking time to cool off in the river.
Now there were signs everywhere saying NO SWIMMING…..others saying NO PICNICS.
On the way back we saw two lifeguards sitting by the river in their swimmers having a picnic……only in Spain !! 🙂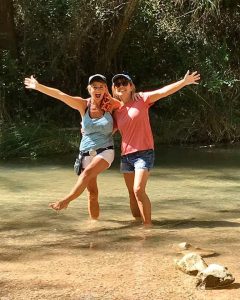 Then it was back to the bikes to load them up at the pub car park, and after packing was complete we sat in the shade for a coffee and watched all the tractors passing through with trailers full of Carobs (?) they tooted their horns and we waved like locals…..childish but lovely at the same time.
Andy and Ali wanted us to go to a restaurant they had been raving about called Las Bodegas in Vanacloig for lunch, and that was our next destination. It was in actual fact not that far from Chulilla, and has plenty of parking outside. They were fully booked when we arrived, but they set up a table for us none the less, and the menu of the day was of fantastic quality, I would say its the best we have had on mainland Spain thus far, coupled with really good service, and all at a very reasonable price in a beautiful building.
This was a fitting end to a superb motorbike holiday, where we took in superb roads, towns, cities, met lovely people on the way, and in the company of two exceptional people namely Andy and Ali Fenwick. We had so much laughter and many reeeaaaalllly's on the way – thanks guys it was great!
NB: Finally we were all happy for Andy as he expressed his delight at being reacquainted with Betty Swolloks during the trip!
We are looking forward to the next trip already……………to be continued 😉