Palma – Albir
Arriving back on the island from the UK, we packed up the panniers of the motorbike and took the ferry to Denia. Our good friends John & Sue live close to Denia and we were hoping to catch up with them. However "Murphys Law" intervened and they we travelling to……guess where……yep Mallorca! Hopefully we can catch up before to much longer!
Our first night, (due to the orginal accommodation cancelling) was spent at Palm Luxury Retreat in Albir. It was more expensive than the original accommodation and booking.com eventually refunded the difference.
This was a lovely clean property and the ladies who welcomed us could not have been friendlier. They also provided secure level parking for the motorbike which is always a serious consideration when checking out accomodation.
Now I don't know if its just my sat nag system – but it does seem to have a mind of its own sometimes – and that's irrespective of the settings – and once again it had me weaving around various small back streets etc. However it finally stopped messing about and we arrived at our destination. We both had a laugh about its foibles.
Albir to Mojacar
Todays run had a good mix of roads with one in particular being a terrific biking road. I know that two up with luggage, that one should be a wee bit reserved but hooning was absolutely essential on this road – great fun and big smiles. Chicken strips are now missing off the new back tyre!
At the start of the run we were up high looking down on Benidorm, and never having been there, I cant make any comment other than "bloody hell". It takes up a huge area and has a sky line more in line with Hong Kong rather than a coastal Spanish town. One building in particular stuck out from the rest and as we found out later it is called the In Tempo Building now you should read this link as the story about this building could not be made up!!
Riding down the coast north of Cartegena we passed loads of salt pans which was kind of neat to see in person the same process that has been undertaken by mankind for centuries. Not sure the exact name of the area or salt pans, but it was on the landward side of Mar Menor.
We stopped in Cartagena at the marina and just as we were setting off for a wander and a coffee I noticed coolant dripping onto the road. I stripped off the plastics and tried to find the leak. It seemed to be dripping from a hose clip on the bottom of the radiator and I did manage to tighten it a little and the dripping stopped. I then topped up the coolant level albeit it only needed about 150ml.
To say I kept my eye on the engine temperature on they rest of the run to Mojacar was an understatement. But it was fine, with the temperature being perfectly normal all the way down to Mojacar. I was relieved that this quick fix had done the job and avoided a potential nightmare.
Mojacar area
We had managed to get a good deal online with the Parador Hotel in Mojacar and had booked a three night deal. We really like the Parador Hotels and especially their "Esentia" range that are in historic/monumental buildings etc. However this one is a modern Parador Civia hotel. FYI the third type are Parador Naturia. Don't know why I ended up on a ramble about Paradors there sorry. 🙂
We had decided on spending time in this area as Sara wanted to check it out, to see if it offered a similar or better option than the north of Mallorca. Online it looked like one could buy a villa with pool/land etc for the price of an apartment in Pollensa. I wont bore you with the details but we checked out areas between Mojacar and Aguilas on the coast and inland as far as Huercal Overa. Some towns/villages were lovely but not lovely enough to make us want to move. There was however one property in Los Lobos that we viewed with the estate agent (and another twice on drive by) that was so well built and had everything anyone could want in a property. However the village/hamlet would have needed to offer just a wee bit more, and we may well have been seriously interested – as I said, it was well built, and was for sale at a price that would make one wonder how they could have bought the land and built the house for that kind of money!
One morning whilst in Mojacar the lock assembly on the top box (storage box) packed in, and as such it would not lock onto the bike…..deep joy I heard myself say!! As these boxes are KTM parts I checked for the nearest KTM dealer and found one in Almeria called Motorinbox
and tried phoning them. My lack of Spanish was a problem and the chap in the shop couldn't speak English. I then rather cheekily went into an estate agent (bilingual) and asked them to call Motorinbox and explain my problem. I was told to get down to Almeria today and they would see what they could do – result. We nipped to a Ferreteria (Ironmonger) and bought some ratchet straps to secure the box to the bike.
As this might have been a bit dodgy Sara stayed at the hotel, and I rode to the shop. The guys were superb and whipped the box off, completely stripped the lock assembly apart, and discovered the problem was some fasteners inside the assembly had come loose. Absolute fantastic service and the bill was more than fair, so I rode back to Mojacar a happy bunny and told Sara the good news, that the trip would not be delayed due to the topbox. 🙂
Mojacar to Orgiva
On the morning we were leaving I went to move the bike and had coolant leaking again – jings imagine that I was heard to say!! The hose clip I had tightened a few days before was still tight and I was concerned that the problem might rest with the radiator itself or something else that might not be good news! However when I checked the coolant level it was still OK, a bit lower than ideal but still OK. I decided we should head back to the KTM dealer in Almeria which we did, again keeping an eye on the engine temperature gauge. Again the temperature was fine and I was still puzzled as to what could be causing this. We arrived at Motorinbox and I explained the situation to the mechanics. They thought the same as me, in that the hoseclip was the issue so it was changed. By this time the engine had cooled down and the leak started again – my anxiety levels were increasing exponentially as the mechanic said, quite rightly, that he would need to strip the bike down to facilitate access and find the fault…..you can well imagine!!
The plastics, fuel tank etc were all duly stripped off in the workshop, and then within a short period of time, the mechanic called me over to show me that he had found the fault. To explain: the coolant level in the plastic container, can be checked without stripping off the side plastics of the bike. To top up the coolant container the side plastics need to be removed, (only a few screws) but there is still a part of the coolant container inaccessible, as it is under the fuel tank etc. Turns out this part of the coolant container has the main cap (like a radiator cap on a car) and the problem was that this cap was loose!!
Boy were we relieved- the bike was put back together and once again the bill was more than fair, especially as they dropped what they had been working on, to help me out. Outstanding back up from a KTM dealer and one which should be applauded, very seldom in all my years of riding (a wide range of different manufacturers) motorbikes have I enjoyed such exemplary service.
We were back on the road mid morning and looking forward to riding through Los Alpujarras to our next stop in Orgiva.
We first read about Los Alpujarras in a book called Driving over Lemons by Chris Stewart (the first in a series of books by him about his life in the Alpujarras) and we were really looking forward to the run.
However we first had to pass El Ejido the area of Spain covered in so much plastic that it can be seen from space as per NASA photo below;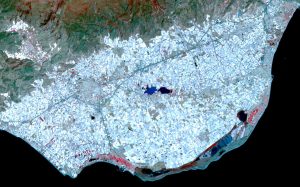 All these fruits etc are apparently/allegedly grown in bags (as this area was once dessert type land) with lots of chemicals used, and allegedly the majority of workers are illegals from the likes of Morocco. These poor folks allegedly end up with various very bad ailments/cancers. Imagine the heat under this plastic and breathing in all the chemicals fumes just so people in affluent countries can have their choice of fruit and veg available 52 weeks of the year………its just so wrong in my book. What's wrong with going back to eating fruits and veg that are in season? – it has to be better than this, doesn't it?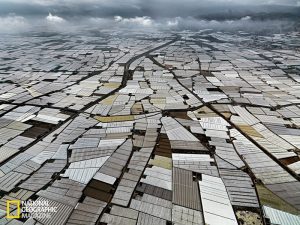 Our planned route was up to Berja on the A347 before cutting off onto the A348 to Orgiva and the western end of the Alpujarras. This run was simply superb, we had the road more or less to ourselves for the most part, and as you can see from the photo below it is stunningly beautiful and reflects the beauty of rural Spain as opposed to the Costas.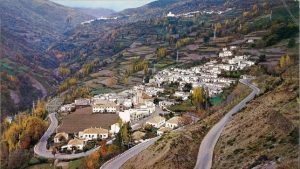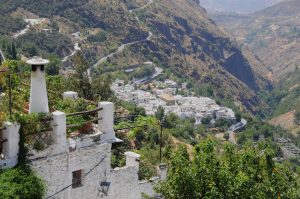 Approaching Orgiva we caught up with a pick up truck…..must have been rush hour!
Being serious I would think that in the tourist season, this road might be alive with cars and coaches – we considered ourselves very fortunate to have had such a clear road today.
We had booked into Casa Jazmin which as you can see is a lovely rural house. Bit tricky to find, but once we found it, the owner Rosa turned out to be such a bubbly effervescent and helpful character. There was also good secure parking for the bike. We did suggest that she put a small map showing how to find the property entrance on her web site, as we were riding in circles for a good 5-10 mins before finding the property.
It was quite interesting walking about the town which had featured in the series of books mentioned above.
During the night however we were awakened by what sounded like rifles firing. It might have been youngsters with fireworks but I really don't think so! In the morning we asked Rosa, and as it turns out she had also heard the noises, but she didn't know what it was all about. After breakfast we headed off and were relieved to find that there were no bodies lying in the street – it was taken up with the market stalls – therefore all must be well. I was beginning to think of Lee Van Cleef leaning in a doorway with his pocket watch playing a tune.
Only those of a certain age – or a penchant for Spaghetti Westerns will understand this last point 🙂
Orgiva to Ronda
From Orgiva the road goes through to Lanjeron, and a few miles further on the road winds down through the hills to join up with the main road to Grenada. We had originally planned to spend some time in Grenada and visit the Alhambra etc but after such tranquility in the Alpujarras I didn't fancy it this time around, and therefore we decided instead to head for Ronda. Our route was north to Granada and then west to Antequera where we stopped for lunch. After lunch we were heading for the A367 to Ronda. Now at this point, i admit that we were aware that an amber warning was in place for wind, and in truth the wind had been building as we rode along but I hadn't really paid any heed.
I have ridden through strong winds in Scotland, and also ridden through the Mistral in France, so I never really took much heed of this amber warning.
Well the reality was that the wind just kept increasing, and I have to say its the strongest winds I have ever ridden through. The bike has an output of some 150 bhp, and I could feel the wind really pushing hard against me when head on, and once when side on, we were caught by a gust which lifted Sara's feet completely off the pegs. Think I'll leave it there and not repeat her comments, and say simply that this will go down as an "interesting bike ride".
We were both happy and somewhat relieved to finally reach Ronda…….however good Ol' sat nag was enjoying it so much she didn't want our day to end , nor indeed did it want us to find our accommodation, as it had us going in circles for a while…..boy was it taxing!!
Eventually we found Hotel Bodega el Juncal.
After sorting ourselves out we went out to stretch our legs and had to walk around branches blown down off trees etc en route to the town. The town itself is quite amazing being built as it is on a cliff edge;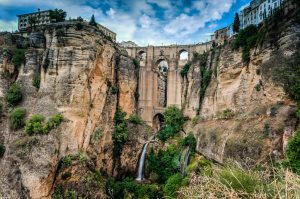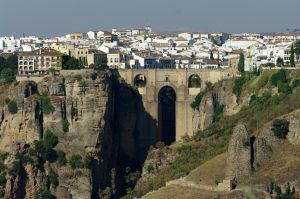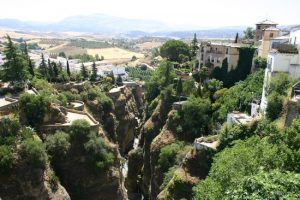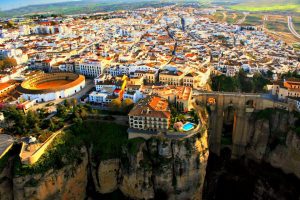 We really enjoyed Ronda and booked an additional night to let the strong winds blow through before setting off on the next leg.
Ronda to Seville
From Ronda it was a smashing bike ride up the A374, the scenery was so lovely, and then we picked up the A375 into Seville. We were looking forward to exploring this city and had booked into Catalonia Santa Justa and arranged underground parking for the bike.
We duly arrived at the hotel, parked the bike in the underground carpark and then reception came up with some bullshit excuse about a plumbing problem, and that they had arranged for us to stay at a sister hotel for the night, and then come back to the Catalonia Santa Justa for breakfast when they would have a room for us. NOT ideal and I think they must have taken a booking for a coach load of people and were making room for them. They were paying for the taxi's to and from the sister hotel and whilst we made our displeasure known, they in turn promised to waive the parking charges and provide breakfast free of charge, its fair to say that we were a bit miffed.
Anyhow into the taxi, which dropped us off at the hotel as per instructed by reception – only to find that we had been dropped off at the wrong hotel! This hotel contacted the Catalonia Santa Justa and we found out that the correct hotel was only a short walk away. We were then told at reception of the sister hotel that we had to pay the full price for the night (full rack rate) and this would be deducted from our final bill at the Catalonia Santa Justa……..Jesus this was getting ridiculous. The room to be fair was well appointed, so it was shower time and out to explore Seville for what was left of the day.
Next morning we got a taxi back to the Catalonia Santa Justa around 10.00 and yes you've guessed correctly no room ready for us. We again expressed our disappointment, and basically said we were going for breakfast and fully expected a room to be available when we finished. This they managed by the skin of their teeth as the cleaner was just finishing off the room they told us was ready!!
Very very poor and a hotel NOT to be recommended. We actually posted a review on booking.com and neither the hotel nor booking.com made any comment, nor any form of apology. Obviously they must be getting their money too easily and don't need to bother about customer service.
As for Seville we loved it;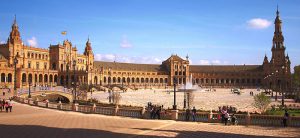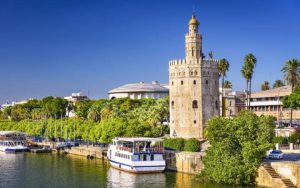 We also thought the old Real Tobacco Factory (now part of the University) was an amazing building with lots of history.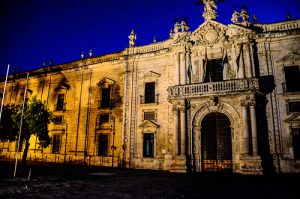 Our friends Diane and Brian had told us that the open top bus tour also included a walking tour at around 1600 each day, which was included in the price and well worth doing. We did the open top tour and then duly turned up for the walking tour. We both agreed it was a highlight of our trip in Seville, because we were walked through areas we had no idea were there, and even if we had found them ourselves, we would have had no idea about their history. This is well worth doing if you are ever in Seville.
Now I always knew that it was a Scot, James Keillor of Dundee, that came up with Marmalade, as there was ready access to oranges that were not good enough to eat and it seemed a waste to dump them…….but i never knew why this was the case. Well to our surprise the reason dates back to when orange peel was used in the process of manufacturing gunpowder. The Muslim ruler was fed up with locals eating the oranges, and thereby reducing the potential amount of gunpowder that could be manufactured, that he instructed that the oranges become a mixed strain of oranges and limes which would not be as tasty to the locals. Now I took this with a pinch of salt but decided to do an online search and lo and behold it's true. Sometime truth is actually stranger than fiction!!
Seville to Cadiz
En route down to Cadiz the wind was getting "a little bit buffety", and you can imagine what was going through our minds (after the road to Ronda in high winds) and I think we both had the same thoughts and trepidation as we approached this very high bridge into Cadiz; but it was fine.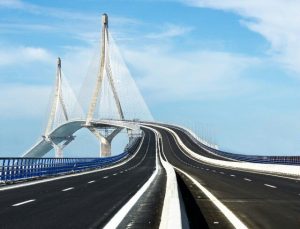 Given the narrow streets in and around Cadiz I was pleased that sat nag had behaved and we got straight to our accommodation Hotel Monte Puertatierra
where we had booked underground parking for the bike. The owners of the hotel Catalonia Santa Justa should send their employees to this hotel to find out what "service" actually is!! Everything about this hotel was pretty much spot on, with real attention to detail when dealing with clients. Lovely Jubbly.
I have always wanted to visit Cadiz as it is so full of history, and not just surrounding the Spanish Fleet being in here before the battle of Trafalgar – but also that in the days of the Spanish Empire all the ships carrying treasure (plunder) from the Americas had to first stop in Cadiz. Its hard to image what the value of these spoils would be in today's values but I would assume mega billions…..in any currency you care to apply!
We walked through the Puerta de Tierra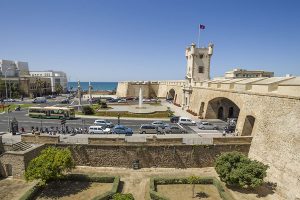 then around the outside of Cadiz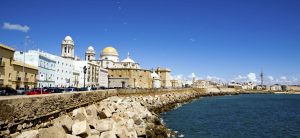 and out to Castle of San Sebastian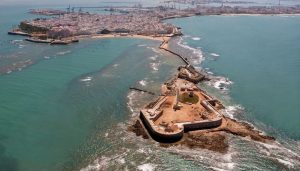 We then explored through the centre of the town and found the old convent that is now a boutique type hotel Hotel Convento Cadiz we had a good look around this place and its certainly unique. I had considered us staying here but as there was no secure parking for the bike it was discounted.
All in all a fascinating stop and I'm personally delighted to have finally managed to visit this amazing City.
Cadiz – Tarifa – La Linea – Malaga
We headed out the city in a southerly direction which meant we didn't go over the bridge again, and headed for Tarifa. The road down to here was again simply superb with terrific scenery, but it had a lack of fuel stations, and as I had not filled up in Seville I was beginning to get a bit thoughtful (well I was a bit beyond that) as our fuel was so low we must have been close to riding on fumes, when the Gods smiled on us and we had the joy of finding a fuel station. Duly refueled, we rode into Tarifa itself but avoided going down to the docks as there was real heavy traffic, instead we took the road out towards Algeciras.
We stopped at the Mirador but the weather was pretty poor so we couldn't see Morocco – however had it had been clear, this is the view we would have enjoyed.

We then rode through Algeciras and around to La Linea de la Conception and decided against going into Gibraltar itself as the queues were taking a 2/3 hours. Instead we parked up and enjoyed some food and coffee whilst looking at the Rock.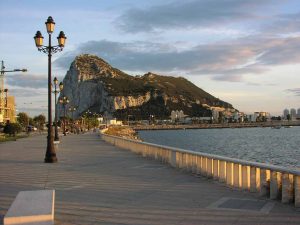 From here we headed for Malaga, and this was the worst bit of road so far – not the road surface, it was just so busy with truck and cars, with bizarre joining lanes – so I headed off for a toll road to get away from the chaos and the choking fumes.
When we arrived at Malaga ol' sat nag started its nonsense again and had me going one way then another and back again…………..eventually we made to our stop for the night Hotel Castillo de Santa Catalina a quite special and unique property. If you check the link you will see what I mean about special! Our room was the Junior Suite shown on the web page…….really neat old place with lots of history and super grounds.
Update: This was Sara's favourite accommodation out of the whole trip)
We walked into Malaga town, and in truth my expectation was low. How mistaken was I, its a lovely town and believe me, i saw a lot of it as Sara was looking for new Fit Flops to replace the ones that broke recently!! There are lots of really interesting properties around (
over and above shoe shops!) and is a town that obviously enjoyed a fair degree of prosperity in the past.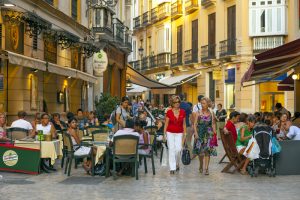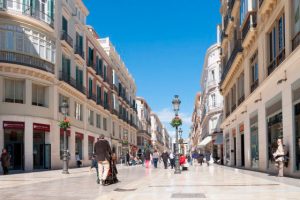 Malaga to Ubeda
The run up to Ubeda was another of those days where one would think that the authorities had given us our own personal road for the day, with the added bonus that the scenery was, once again lovely. We decided on Ubeda as it was the nearest large town before our planned sojourn into the National Park which starts at a town called Cazorla.
We booked into our hotel the RL Ciudad de Úbeda. We had to ask for a change of room due to air con noise – clearly a problem in (at least) this room as they had built in another internal glass door in an attempt to reduce the noise. Other than that, a pretty decent hotel, in a town that we knew absolutely nothing about.
We went walking into the town and the more we explored the more we uncovered – Ubeda is a gem of a place, with the countryside for miles around covered in Olive trees. It transpires that this area produces more olives than anywhere else on the planet. The real find though was the old part of the town – it is amazing. Here are a few photos…..
The church of San Pablo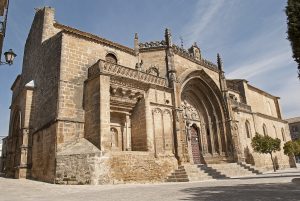 The Hospital of St James (now a cultural centre)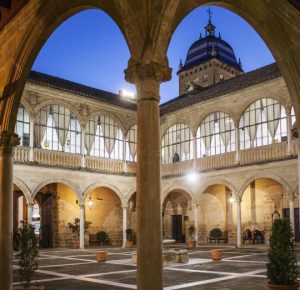 Parador Hotel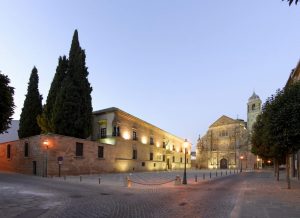 Its really neat when you come across something unexpected and interesting – Ubeda definitely falls into this category
Ubeda to Coto del Valle de Cazorla
The weather forecast was not looking good for the following few days so we were looking at various Spa type hotels to give us something to do until the rain passed through. We finally decided on Coto de Valle de Cazorla
The ride from Ubeda to Cazorla was a bit hit and miss with the rain constantly threatening as we rode into this town. Once there, either me or sat nag got a bit discombobulated, and we had to stop in the town and ask directions. We understood the chap when he pointed out the road and said in Spanish "when you go up over the mountain and come down the other side its on your left"
This road surface, was as you might imagine being a mountain road, in pretty poor condition. It was also a wet narrow road with hairpin bends, and to put icing on the cake the mist was low, and at times visibility was extremely limited! Deep joy I thought as I focused purely on the black strip in front of us and negotiated the hairpin bends etc……..a challenging ride!
Here is the road when the mist cleared..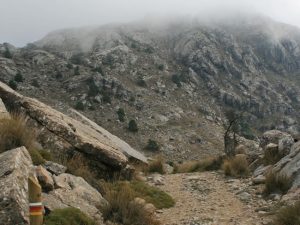 No its not!!… I'm only joking and checking you are still with me and haven't fallen asleep 🙂
When we arrived down the other side of the mountain road I was happy to park the bike up, and the bonus was we arrived before the heavy rain. Sara asked me if I had heard the sound of breaking glass near the top of the mountain road, and I said no, what was it? …..she replied it was "just her bottle crashing", when she got spooked and saw the drops down the off side of the road when the mist lifted 🙂
We sorted ourselves out in the room and then decided to take advantage of the Spa Facilities – we had a lovely couple of hours relaxing in the spa and watching the heavy rain hit the windows of the pool. As this hotel was quite remote we decided we would eat in the hotel. It's not what we normally do, as we prefer to stop along the way, or go out into whatever town we are staying in. However we both enjoyed our evening meal and funnily enough ordered the exact same food.
That night I started feeling a bit grim, and cutting a long story short things didn't really improve for the remainder of time we were here. Thank goodness it was somewhere that Sara could do something, and I encouraged her to spend as much time as possible in the Spa, as I was totally out of commission! The day before we were leaving I was feeling a bit better and we walked through the woods to the next town called Arroyo Frio – but on the way back we got caught in the rain and sought shelter in an unfinished house. Next morning I felt good enough to move on, as by this time I was absolutely fed up and needed to get back on the road.
Coto de Valle to Albacete
The road through this National Park is the A319 and the scenery is so very reminiscent of the west of Scotland – in other words beautiful. We are both completely blown away by the size of the country and the number of areas of outstanding natural beauty and this is right up there.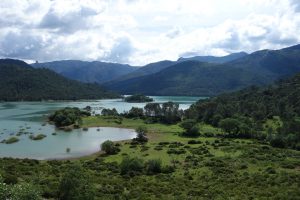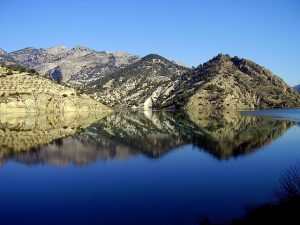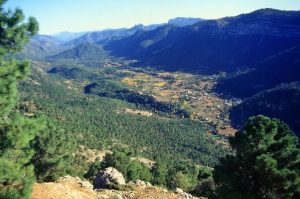 A great ride all the way through the park, then alongside the lake, over the dam, and eventually exiting out onto the main N322 road to Albacete and onto our stop for the night Hotel Santa Isabel .
In the underground car park of this hotel was a collection of classic cars, motorbikes and scooters all in first class condition. The room itself was huge and bright, and after my recent trials and tribulation I loved it….. Our meal that night was very light, with breakfast in the morning a strange experience. The vast majority of food was submerged in olive oil, with some other foodstuffs being a bit of a puzzle, as we didn't know whether they were animal vegetable or mineral and therefore a bit thoughtful. The waiter chap was no help and he is definitely in the wrong profession – his disdain for everyone was palpable, and it's as if he enjoyed making as much noise as possible clattering plates and banging doors. We had a little bit of what we could recognise, but decided that it might be prudent to wait till later on the in the day to eat, and have a menu del dia somewhere en route to Xativa.
Albacete to Xativa
Sara had booked us into an apartment in the middle of Xativa, and all we really knew of the town was that it had a medieval castle on a hill. The run from Albacete was again through some amazing countryside and we duly arrived early afternoon. Sat Nag had us in a square in the centre of the narrow streets in the town and it was a wee bit confused bless it. However we both knew we were close, but we couldn't see street name plates to help us. Now you need to excuse this next bit as it might seem like whinging Pomme time, BUT every time I have asked a Spaniard for directions they either get it wrong because they don't know where the place is – or it might be that they are simply having a bit of "fun "
with tourists – whatever the reason, it's invariably a waste of time. No offense meant.
The following is proof of what i say, because sitting on a bench in this square was an old boy, obviously a local chap, and I asked Sara to show him the street name we were looking for and get directions. He looked at the address, pondered it for a moment, and then and proceeded to point behind him saying something like third on the left, fourth on the right, straight on, round the roundabout and disappear up your own ***** why it is so, I have no idea!!
We ignored this "local advice" and found the required street no more than 20 yards away from us in the direction the old boy was facing! – the nameplate of the street was not actually on the corner but about 25 yards further down the street!!
The owner of Las Coles Apartasuites was there to meet us – showed us around, and then took us to park the bike in a secure garage. Once sorted out we went out for a look at the town. I fancied getting the tourist train to show us around, and we had passed where it runs from when riding through the town. We waited till it arrived, but the driver then said it would be a few hours before the next trip up to the castle. Cutting a long story short he eventually took us up to the castle ,saying we would have to walk down……got our vote and our thanks. Walking about the castle and seeing its topography and defences made the mind boggle as to who would try to attack such a structure on such a hill. You would be jiggered by the time you climbed the hill to the bottom of the walls!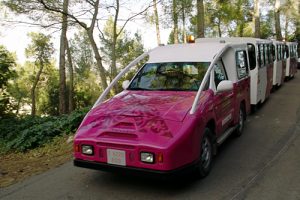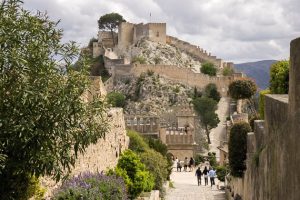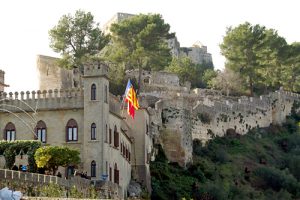 Also turns out that Xativa is where the Borgias came from – check this link for more info on them and also on the town itself.
This town also hold the current record for the cheapest three course menu del dia (menu of the day) at 6 euros 60 cents. Furthermore it was absolutely delicious with really friendly service.
Xativa to Tortosa via Peniscola and Vinaros
We set off next morning with sat nag again taking control, and today I was pleased that it did, as we passed one of the white elephants in Spain, and we would possibly have missed it had sat nag not known better, This one is Castellon Airport
From there we headed to Peniscola where I fancied looking around the Templar Castle, and also checking out the town that we thought about, but didn't visit when sailing Sun Dog down the coast. This town might well suit some people but its certainly not our kind of place, and as such we didn't stay long.
Instead we headed up to Vinaros, a port we did sail into when sailing down the coast. For me its always a bit surreal when revisiting a place sailed into previously, as it throws up such lovely memories of a time when there was no real plan as to where we were going…….we were simply meandering. That was again the feeling when we parked up near the marina and reminisced, but it was time to move on and get more fuel before heading for Tortosa where had booked into the Tortosa Parador for a few days.
In entering Tortosa good old sat nag once again took a funny turn (and this was was the best one yet!) as it had me going up roads no wider than pavements, and giving me angst as the side panniers (boxes) were getting close to the buildings on either side! I am not kidding either! It finally took us up onto a proper road which lead to a gap in an old Castle Wall. However the road appeared to go up a relatively steep hill, and as I didn't want to get myself into a possible tight turnaround situation on a steep slope with the bike fully loaded, I was pondering on the best thing to do. A lady was walking out the grounds and she told us that reception was indeed up the hill and the road continued around to the right through an archway.
This photo shows the final part of the slope and gives an idea of what I mean, albeit this is the last part of the slope – we were viewing it from a couple of hundred yards away, and there were no signs anywhere to give any indication.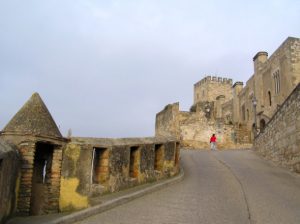 We duly got checked in and were:
(1) Impressed with the view from our balcony.
(2) Unimpressed with service and quality of rooms for a Parador
(3) Unimpressed that a new lift shaft was being installed and the noise started around 8.30 in the morning and stopped around 2200 in the evening, and that no one had informed us this was the case. There was only a sheet of A4 paper at reception apologising for the works……but by that time they have your booking and money.
When we gave feedback at the end of our stay, all we got was a standard fob off – not what one would expect from a Parador. In fact its fair to say this is the worst Parador we have ever stayed in – but it was one with outstanding views!!
Anyway back to the trip. We had decided to base ourselves in Tortosa so that we could cover the area to the north by doing clockwise loop one day, and an anti clockwise loop the next day.
Clockwise we rode north on the C12 until we reached the junction with the C242 to La Granadella and on into the Parc Natural de la Serra de Montsant another area of outstanding beauty. I've never seen the Grand Canyon but part of this Park look like a miniature version. It's so difficult to convey how beautiful this areas is, and its beauty continues mile after mile, it also gets harder to remain focused 100% on the road. We were out all day on the bike and were both blown away by the scenery, which we have tried to show via the following photos – but they simply do not do it justice.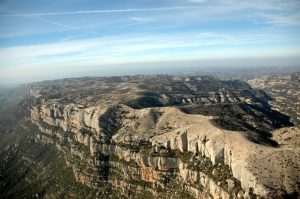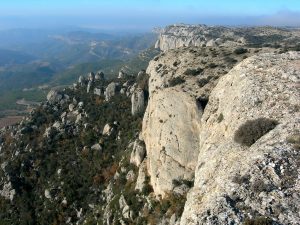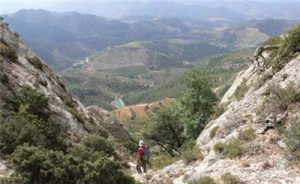 The next day we were doing the anti clockwise route, again up the C12 road until joining the N420 going through Gandesa and onto the A1413 onto the N232 to Morella and then back to Tortosa.
After the spectacular scenery yesterday we were trying to manage our expectations, but it transpires, there was no need, as the scenery all the way to joining the A1413 was smashing. It then just blossomed ever more, whereby we were riding past all these meadows with fields of poppies, and simply had to stop and give ourselves time take it all in. I don't have a good enough command of the English language to describe the beauty of this amazing landscape properly.
We finally reached Morella another Medieval castle and town, and this one is truly amazing. If the electrical cables were removed in certain parts of the town, it would be as if one had gone back in time, as areas of this town seem to have changed little.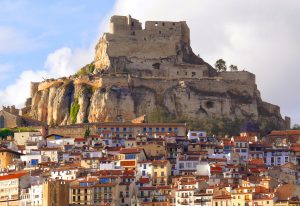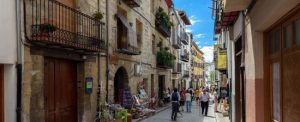 This town and Castle is worthy of a full days outing to explore the area properly – amazing town. From there it was back to our accommodation for an evening of reflection on yet another fascinating day.
Tortosa to Vilanova de la sal
This mornings run was again a bit of a case of hoping the rain would not get us – it did try – but thankfully it didn't hit us badly. We only rode through some drizzle en route to our first stop in LLeida, where we stopped at a cafe, and oinked our way through croissants coffee cake etc. This restored the soul and we then headed onto Balaguer, a town where we had stopped on the bike when riding down from Scotland to Mallorca. Once again it was neat to sit and have a juice outside our original accommodation and the memories came flooding back. Sara headed into the supermarket for a few bits and pieces as the accommodation she had booked for tonight, was apparently in a rural location with no shops. However back she came, not with a few bits and pieces, but with half the supermarket. We had to try and squirrel all of this into the top box.
Having successfully accomplished this, we headed of for our accommodation Cal Ribero in Vilanova de La Sal.
This is without doubt the most rural Sara has booked to date – however to be fair the accommodation was like new, and they also provided a garage for the bike. We didn't go out at night deciding instead to simply rest up and work our way through the supermarket purchases. There was another reason………there was simply bugger all to do!! I did ask the owner in the morning what his niche market was, and it transpires he is normally booked out with Rock Climbers…..and this makes a lot sense given the area.
Vilanova de la Sal to Cardona Parador
The run to Cardona was, once again through the lovely Spanish countryside, especially after the town of Ponts, where good ol' sat nag had us turn off the C26 onto the much smaller C1412A then onto the C75 at Biosca, then the LV3002 passing El Miracle and then after a town called Su (somehow Johnny Cash came into my mind) the road somehow morphed into the BV3001 and on to Cardona – extremely interesting route – makes me wonder if the gremlin in our system, manifests itself in the same way in other peoples sat nag systems:-)
We arrived at the top of the hill overlooking Cardona and we could see the Parador sitting proudly at the top of another hill. Now this is where sat nag excelled itself once again. We spent the next 15mins or so going in circles and ending back where we started (getting frustrated at this point) . I decided to ride back to the top of the hill, switch the sat nag off, looked down at the town and memorised what looked like the road to the hotel. I'm pleased to say this worked and we arrived at the road up to the hotel.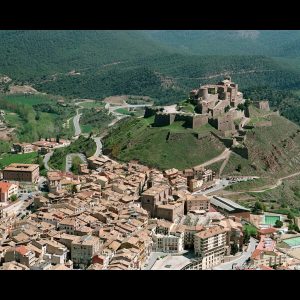 When we got to the top we followed the sign for the Parador Reception straight into a car park – no sign of reception at all!! We went back and and tried another way, but it was no entry!! I couldn't believe it was so difficult to find reception. So back to the sign for reception, and into the car park where the problem was solved. You drive into the car park and go around to the left where the narrow entrance road to the Parador is situated. However on our first attempt there was a mini bus parked alongside the wall ostensibly "hiding" the entrance. I'm willing to bet others have done the same 🙂
Neat thing was I could ride the bike up past the reception area and onto the higher level parking space.
You can see what I mean in the following photo. The two cars are in the lower car park mentioned above, and the archway is the entrance to the hotels own parking. Reception is actually at the top of the ramp to the left after going through the archway. Where I parked the bike was further up again, where the white and blue vehicles are parked.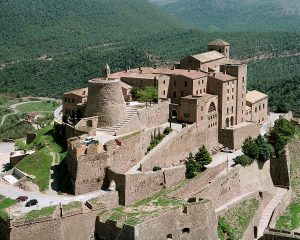 Love these photos of the Parador;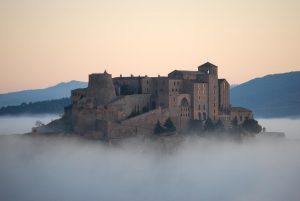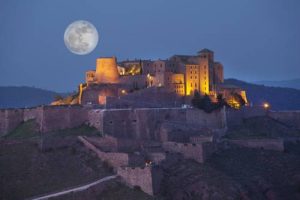 We duly checked in and were pleased that our room was to the right standard, and had an outstanding view. From one of our windows we could see that if we had simply ignored sat nag and stuck to the main roads we would have arrived at the foot of the Parador. But, in its defense sat nag saves us from getting bored, and allowed us to see countryside not frequented by many travellers 🙂 We had a good look around the hotel and I have to say that this has been the best Parador on this particular trip, and second best ever. Bayona in NW Spain holds the number one award.
We then walked down into the town for some bits and pieces, this is where we made a mistake and walked down the road, when in actual fact there is a path from the Parador down to the town. We used this path on the way back up. The old part of the town is full of narrow streets and has oodles of character, and charm. We enjoyed our coffee in the square, simply sitting and watching the world go by.
Plan A was that we were going to meet up with our good friends Pete and Debbie when we arrived in Barcelona, and then on the two bikes we would head up to Andorra together. However upon checking the weather forecast for the dates we had planned it was showing heavy rain 🙁
I phoned Pete, and he said that as we were in Cardona, they would jump onto their bike and ride up the next day and we could have a long lazy lunch and catch up. Its been a couple of years since we last met up. Jumping back to 2011 when we were at the end of our six month sabbatical and the boat was in Barcelona (parked just along from Pete and Debbies boat) I was sitting on Sun Dog trying to figure out the best way of getting the boat back to Scotland, as we didn't have enough time to sail her back the full distance ourselves. I was checking out paying for crew, transport by truck etc. At that moment Pete popped by and asked what I was up to. When I told him, he immediately asked the killer question that changed our direction. The question was WHY? And a bloody good question it turned out to be, and I will be eternally grateful that he asked that question that day!
They did ride their bike up the next day, and we had a great catch up and a lovely lunch in the Baronial Styled Dining Room, and spent the rest of the day lost in chat and laughter.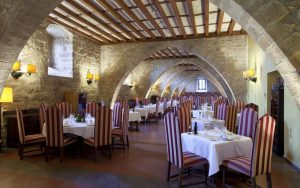 All nice days end, but we plan to catch up again before we get the ferry back to Mallorca, and a Uruguayan steak restaurant in Castelldefells is being muted…….that will suit Meatasaurus Pete 🙂
Next morning after breakfast we jumped onto the bike and headed for a day out to Andorra and then back for our final night in the hotel.
The road up to Andorra has me again looking for superlatives, absolutely stunning, and the nearer we got to Andorra the more Alpine the buildings became.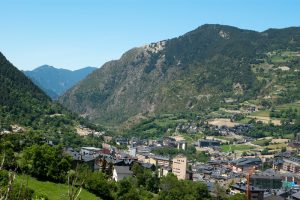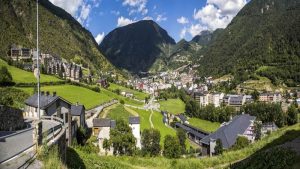 It was kind of strange when we came to the border of Spain and Andorra, as for the first time in a long time, we had border controls to go through. Freedom of movement across Europe has been the norm for so long that these borders took me way back in time, and also made me reflect on what Brexit might bring??

Update: Our next mobile phone bill included a hefty data roaming charge!………….you have been warned!!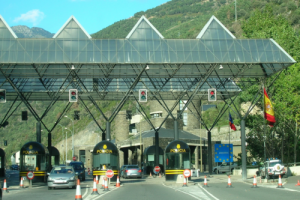 The main city of Andorra, is Andorra La Vella and it is not for us – way to crowded and busy, and almost claustrophobic. We parked in a car park and then went for coffee, and made the decision to head straight back. Sara duly paid the parking charge, but when we got to the barrier and inserted the ticket the barrier wouldn't open. Two choices; faff around and try and get it to open, or up the pavement, around the barriers, through a park, between the posts and onto the road. I'll let you ponder which option was chosen!
The run back down just verified what a beautiful country Spain really is – lovely run back to Cardona.
Cardona to Barcelona
Next morning we were off to Barcelona to stay for one night at the Cram Hotel and catch up with my friends Ronnie & Bernadette from Australia (who I went to school with) who were doing a mini European tour. They were booked into the Cram Hotel for a couple of nights and we planned to catch up for a day and a night. Sadly they were hit by a family member being rushed into hospital, after something innocuous turned really nasty, and had to cancel their entire trip and go to Sydney to help out with their grandchildren.
Update: Good news is that some time later, Bernadette sent me a message saying that their daughter in law was out of the critical phase, and whilst still in intensive care the prognosis is good. We hope and pray that the improvement continues, and that we are all able to meet up at a future date and place.
Our boat Sun Dog was moored in Barcelona for a few years, but we had forgotten just how busy the city actually is! I have to say that, even though we both loved our time in Barcelona, its all a bit too busy and frantic for us now. Nice to visit, but not to live in, we prefer quieter and more peaceful places.
En route to the hotel Sara had spotted an Indian Street Food Restaurant so we went there for a meal, but during the night we both felt a bit squiffy. In the morning I was OK but Sara was still a bit groggy. This was a shame but at least it was a short ride to our final stopover.
Barcelona to Castelldeffels
We had used booking.com to reserve a couple of nights in the Gran Hotel Rey Don Jaime but it seemed way more expensive than the last time we stayed here. The reason we choose it is because its the nearest hotel to Pete and Debbie.
Sara then checked the hotels own web site and it was substantially cheaper than booking.com, Sara duly cancelled the booking made in her name, and made one with mine direct with the hotel online. Booking directly with the hotel also gave free underground parking.
This situation with all hotels charging for parking is a bit of a bone of contention with me, and i find it extremely irritating.
Just a mile or so before the hotel we stopped at a small cafe for a coffee and some food before going to the hotel. We left the cafe arrived at the hotel, went into the top box to get out the bag containing wallet, passports etc only to discover it wasn't there – we had obviously and stupidly left it at the cafe. I dived onto the bike myself and flew back to the cafe checking everyone walking along the pavements didn't have our bag. I arrived at the cafe and was relieved when the lady said she had our bag in the back of the cafe……relief doesn't cover it……I went to give her money for her honesty, but she wasn't having any of it. I then said she should give it to her grandchildren, and at that point she graciously accepted the money. I am a believer there are more good than bad people on the planet, and this honest lady adds weight to my beliefs.
Once checked in we went for a long walk along beach and into the marina (another one we had been in with Sun Dog) and were having a mental trip down memory lane – then who should we see but Pete working on a boat. Quick coffee stop and arrangements made that they would pick us up at the hotel tonight, and we would go to the Uruguayan steak restaurant.
At the restaurant we all ordered steaks and these were very good, with the company being even better. It was yet another period of laughter and taking the mickey out of each other. Sara and Debbie are more like the chuckle sisters when they get started! Hopefully Pete & Debbie will be able sail over to Mallorca later in the year. A good time was had by all and they kindly dropped us off at the hotel just before their Jeep turned into a Pumpkin!
The ferry was booked (it's an evening sailing) Barcelona to Alcudia. This takes about 7 hours or so, but the expense of a cabin almost doubles the cost. We decided to book first class seats which are not expensive & have to say these are simply superb. They are fully reclining and uber comfortable – I think I was asleep before we were out of Barcelona harbour, Sara says she nodded off not long after me, and we awoke just as we were coming into Alcudia bay. Makes for a short journey 🙂
From the ferry its only 10 – 15 mins to our apartment, where we quickly unloaded the bike, and hit the sack for a few more hours.
What did we learn from our trip? Well amongst many other things, Spain is a big country when compared to the UK. It also has some absolutely outstanding areas of natural beauty, that would be hard to match, never mind beat. The people we met on our meanderings were (in the main) very friendly and helpful………just don't ask for directions!
We both loved spending so much time in (non Costas) mainland Spain and look forward to future trips…..and if we have the same sat nag, this will no doubt, include some interesting diversions 🙂
Fantastic trip in a fantastic country.