Well that's the house rented out for a while and we are heading off for an extended break. Bit late in life for a sabbatical but that's ostensibly what it is!
We have traded in our Triumph Tiger 1050 for a KTM Adventure R c/w side panniers and top box, and that's our new mode of transport.
We set off to Manchester, Whitstable, then London to visit Sara's family before heading down to Portsmouth to catch the Ferry to Bilbao. We have been through Europe a few times on motorbikes and this time we fancied getting the ferry straight to Spain. Unfortunately the weather God's decided to give us a F8 down through the English Channel with lots of people on the boat feeling squiffy. My feeling was that this might increase when we hit Biscay, but thankfully the crossing was fairly straightforward, and we arrived in Bilbao in lovely sunshine.
On the recommendation of friends we travelled to Picos de Europa National Park and booked ourselves into Heredad de la Cueste in Llenin which is excellently located.
Jaime,the owner of this property could not have been more helpful, and he made suggestions as to which parts of the Park to visit via motorbike. The area itself is simply stunning with this being the view from our bedroom window.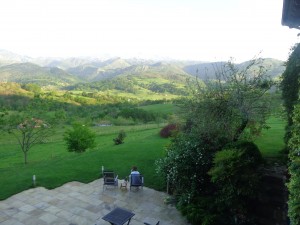 If travelling on foot there are so many walks to do at a number of levels of difficulty and duration. However if via car or motorbike, make sure you visit the Lakes. There are parking facilities at both the lakes, with the added benefit of a Café and toilets at the second lake and also a very short walk to a viewpoint.
Here is an idea of the scenery.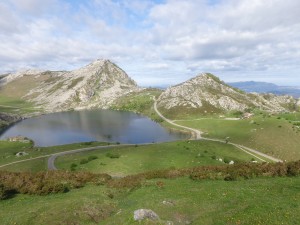 We had an excellent few days here and would recommend this accommodation to anyone wishing to visit this area.
From there we headed off to the coast to our next stop in Zumaia, which is after Bilbao towards the French border. This area looked so good when we checked it out in advance, but in truth it didn't live up to our expectation. Most people in restaurants and cafe's were (to put it mildly) a wee bit surly, and it seemed to us they were "perfectly balanced" with a chip on each shoulder.
The accommodation we stayed in Landarte was quite pleasant, and it was obvious that a lot of time and expense had gone into filling the house with art and making the bedrooms quite unique. The roads through to here were simply great for the bike and we are having the occasional interesting detour, courtesy of our temperamental sat nav system. En route it took us over a high mountain pass which it turned out just looped us back onto the road we had been on………a bit quirky but fun non the less as we are in no real rush.
Our next destination was Ore, on the French side of the Pyrenees (about 12miles short of the border) and we were a bit thoughtful about booking accommodation in such a small village. However we were very pleasantly surprised by the L'oreiller d' Hadrian run by a lovely couple from Belgium who also could not do enough for their guests. They suggested some lovely roads for us to explore, but only after checking on the telephone that the mountain passes were actually open. Only one that we had planned to do "Tourmalet" was still closed, but the Col de Peyresourde and Col d' Aspin were both open and duly covered. These roads are used in the Tour de France and our respect for these riders has just shot up a few notches – incredibly long climbs with some bits being steeper than others……..respect!!
This shot is from the summit of Col d' Aspin and you can see the road snaking up the mountainside.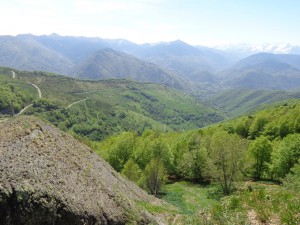 The shot is when we stopped on the otherside for a coffee – if you look closely you can see people practicing hang gliding.
photo to follow
From here we decided to ride down to stay overnight in Balaguer. The roads we took down were simply great on the bike. However we did end up stuck for a while as the authorities tried to recover a truck and trailer that had gone on its side right over the Armco barrier on a RH bend. Most likely cause either going to fast, or the load shifting whilst going round the bend. This is the 3rd one of these incidents we have seen between France & Spain! They tried with a crane to lift the trailer back on its wheels, all to know avail and they dropped it back over the Armco and opened the road back up – no doubt they will eventually recover it.
We carried on our merry way and cut off the N230 onto the C1311 and onto the C13 which turned out to be a stomping road, getting better and better the further south we went. Lakes or reservoirs to the side of us pretty much the whole way down. Great ride, but very very hot!!
Arrived in Balaguer and headed for the first café in the main square to get a cold drink before going round the corner to our accommodation for the night El Palauet de la Muralla
. Now this must rate as the most amazing property we have ever stayed in, made all the more remarkable as we were the only people in the entire house for the balance of the day and the entire night.
There was a lady who greeted us on arrival – guided me round the back to park the bike in the old stables (totally safe and secure) and then checked what time we wanted breakfast, left us the keys and headed off…………I kid you not !!
From the link you will see photos and info, but for us the most amazing room was the one containing the Library. Now I have no idea what information is contained within these numerous volumes but it must simply be irreplaceable. Now whether its because we have been in the fresh air of the mountains but in and around the town our noses were running and stinging from the air pollution. So much so that rather than dine outside we bought food and took it back to the house. The town might not be our favourite choice, but if we were travelling this area we would book into this house again as its simply unique with a capital "U".
From here we headed towards Castelldefels and upon leaving Balaguer its fair to say we had left the mountains behind and it was back to very busy roads etc. We had booked into a hotel for a few days enabling us to visit Pete & Debbie here in Castelldefels and it was great catching up with them before they headed off to France.
We also took advantage of the train system and for ten euros (for the both of us) we got a return trip to Barcelona where we had arranged to meet Nico Aure and baby Nina. Unfortunatley Aure couldn't meet up with us, but we had the joy of once again meeting Nico's mum who was over visiting from Buenos Aires. We had a lovely lunch at the club where we once were members, and a good catch up before leaving them their own space, and having a walk around the city where Sun Dog had been berthed for a few years.