Back to the boat for some R&R under a blue sky and sunshine, and also for me to catch up on some of the backlog of maintenance work.
This entailed rewiring and fitting new fluorescent lights (when connected to shore power) as the current ones have been discontinued by the manufacturer, and lo and behold the new ones have completely diffent connectors, thus the need for a complete rewire. Also renewed was the chain from the autopilot to the main steering cog, as the current one is pretty slack and cannot be adjusted. Post Note: this has made a big difference when underway using the autopilot. The impeller and drive belt were also changed and the gearbox oil changed, with the stuffing box also being checked and adjusted. The boat was totally cleaned and polished, with the "Brucie Bonus" being that we have found a really good product locally for removing rust from stainless steel. With this product you lightly brush on the effected parts, leave for 5-10mins and then simply rinse off with water with no damage to the paintwork.
Nico our friend from Argentina insisted that we have a BBQ at the club and he rounded up the "International Contingent" of friends for what turned out to be a fantastic evening. Not everyone could communicate in all languages but we managed to have an evening containing lots of fun and laughter – almost medicinal. Nationalities included; Argentinian, Scottish, English, South African, German, Belgian, Spanish & Catalan.
Once all the boat work was completed we headed along to Port Ginesta to have a stainless steel frame made for the back of the boat so that we can quickly get shade over the cockpit for when we are either in port or at anchor. Once again Ramon and Jordi (didn't take a note of their company name, but Ramon owns the company i.e it has nothing to do with the marina and they are located in one of the workshops just behind the bars an restaurant in the marina) were excellent in measuring constructing and fitting this to Sun Dog for what I consider to be a really fair price.
They completed and fitted this within a couple of days, and I think because we have used them before we got a wee bit of preferential treatment. While this was being manufactured we went for long walks along what seemed like an never ending beach – miles and miles of clean beach. Don't think I have ever paddled so much in my life!!
We were parked alongside "Silver Heels" a lovely old boat and the Dutch owner Paul, and when we were chatting about needing to find a sail maker to make the cover to fit between the new stainless frame and the wheelhouse, he kindly gave us the contact details of a company he used and they are based in Barcelona. But they are not located anywhere near the sea, they are apparently located away back in the city. We have sent them an email with a view to them coming down to the boat once we are back in Barcelona to measure and price up the job.
From here the decision was to head further west (along the coast) to visit Torredembara – hard to miss with the very tall lighthouse close to the entrance!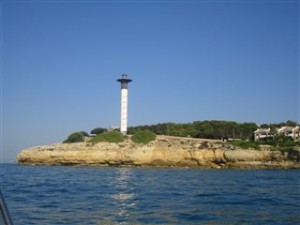 Lighthouse to the right of the following photo – click on photo to enlarge.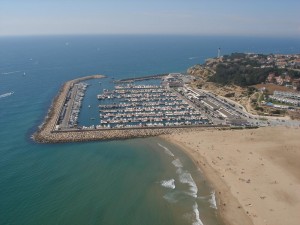 The lady in the marina office gave us some local guidance/information, including the fact there was a coastal walk round past the lighthouse, to what can only be described as a gorgeous little village/town called Altafulla.

This area was so pretty and tranquil that we stayed a little longer than planned, and would highly recommend to anyone sailing down the coast – only caveat being that we don't know how busy it would be in high season. I also think, that because the the marina is home to the Guardia Civil it should keep away any rag tag and bobtails…..
From here we decided to head back along the coast towards Barcelona with the forecast indicating Westerly, backing South Westerly 6-8kts of breeze with 12kt gusts. This didn't last too long once were left the marina. When the wind was hitting a steady 12 – 15kts and 20 – 23kts in the gusts we had all sail out and old Sun Dog was sailing along at around 6kts…….fantastic! We gybed along past Sitges and Port Ginesta about 5 mile offshore, and were having so much fun that we kept going all the way back to Barcelona – great sail. When we were sailing along we encountered a fish farm well offshore and have now marked this clearly on both the paper charts and chartplotter. We are accustomed to these big circular nets/farms in Scottish waters, but have never seen one so far offshore.
Back in Barcelona we received confirmation that the girls from the sailmakers could come down on measure on the Friday morning, which was fine by us as we fly back on Friday evening. They duly arrived at 0900 and through sign language and drawings we finally came up with a final decision on the style colour etc for this cover. They will email us back next week and if we agree to their price they will have it made within a couple of weeks.
So all in all a lot of good work done on the boat and a lot of well needed R&R with lots of sunshine.