We had to wait in Barcelona for a week and a half as we were awaiting deliveries from the UK and also for a local company making our bimini, well not really a bimini, a more accurate description would be a shade for the cockpit with removable sides and back. This was good value and is an essential requirement for shade when at anchor or in port. Or else one would end up like a crisp!
We had deliberated on whether to go straight across to Mallorca or to spend time exploring more of the coast and assess all options the different stops would afford as our search for "somewhere in the sun" continues . We finally decided to spend the time exploring down the coast with Denia being our last mainland stop, and also the jump off point for Ibiza – no decisions were made on other ports, with the exception of Valencia which we both fancied visiting.
Short summary of our trip as follows – winds from F2- F6+, and seldom from the forecast direction!
Villanova where, due to an arrangement with the club, we were entitled to a free night. As we had been in here before we pretty much stayed on the boat and started watching the first series on The Sopranos, which we never watched when it was broadcast on the TV.
Torredembara, one of our favourite places, where we refuelled the boat and filled the Jerry cans after first putting in some Marine 16 fuel additive as a preventative measure. One of the main fuel suppliers in Spain have recently issued an advisory that all marine users should consider using fuel additive – big statement!
Hospitalet le Infant, another marina where there is a free night option via the club. We tried contacting them on the VHF, but as there was no answer we headed in to tie up at the waiting or fuel pontoon. Just as we were going alongside a real stroppy mariniero started giving us grief, but finally told us a berth number – this turned out to be too shallow – probably intentional – so we thought, sod this, and spun around to head off to anywhere other than here!! Might just have been that one individual that was having a bad day, but I don't think we will ever be back here.
Calafat was only a few miles further along the coast and we parked up in here with no issues at all but it took a bit of negotiation to reduce the berthing fee from extreme to reasonable.
There was a small beach next the marina where we went for a swim to cool down…..its definitely getting hotter!
Our next challenge was to round the Ebro Delta, which like the Gulfs of Lion and Genoa can experience sudden and dramatic winds called "Tramontana". Naturally we checked the forecast as much as possible but, due to the nature of the place these cannot be fully relied upon. We set off and decided to stay well offshore, as with being a delta the coastline will be ever changing. The visbility when we set off was such that there was no horizon, and the sea was smooth and oily……it felt like being in a dreamscape…wierd. Also on the the chart it showed a couple of yellow buoys one being a racon beacon – these are no longer in position or have been moved. I was relying on these as a double/verification check given the poor visibility etc…..c'est la vie
Once round the delta we considered going into San Carles de la Rapita, but we had heard two things; one being the area has lots of mozzies due to the rice fields etc. The other being it was predominately occupied by Brits. Now being Brits ourselves this next comment you might find strange, but we have no desire to be in Little England, Little Britain or whatever; preferring instead to know we are in a country other than the UK. So we carried on down the coast to……
Burriana; where we parked up at the fuel berth and went into the very modern and new marina office. The staff here were extremely friendly and the berthing costs were very good value. Now here's the rub; the pontoons themselves are in a very run down condition with a number cordoned off. It would appear that Club Nautico (huge facilities here) is very busy and if one didn't wish to tie up to tired pontoons that would be another option, albeit more expensive – that is if they had a berth as it seemed packed.
Valencia; we were both looking forward to visiting this city, and as per the pilot book we tried calling America Cup Marina on the VHF – no response so off to the fuel pontoon to see how we got on. Turns out the name has changed to Juan Carlos 1 Marina, staff very friendly and helpful. This was also the cheapest place we have ever stayed in Spain at just 13 euros per night, including electricity and water. We were berthed just on the sea side of the marina bridge used in the Valencia GP, and as we walked over the painted road (circuit) I could help but think of my mate Sean who is mad keen on Formula One, and indeed we had talked about going over for a GP.
With our limited time we did the usual open top bus tours over a couple of days to get a feel for the city and its fair to say that some of the vegetation needs a bit of a trim…..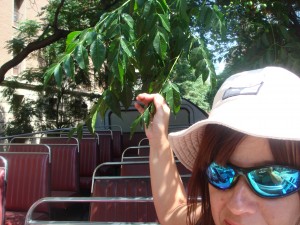 If we went back I think we would be spending a day at the Oceanarium set in a redeveloped area of the city, with lots of modern architecture and unique buildings. Our favourite piece of information was that the river which previously ran through the city had burst its banks a number of times, and the decision was made to divert the river so that it didn't flow through the city and cause deaths and mayhem. Now the city officials wanted to sell this land for industry and commerce, but the people of the city rallied against this, and claimed the river bed a "public place" ….I'm so pleased to say they won, and the people now have a long winding parkland with all sorts of sport and recreation facilities. Great story – Power to the People

Some views around Valencia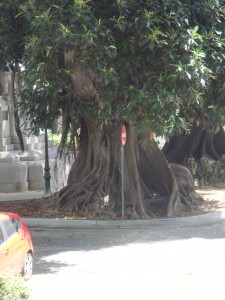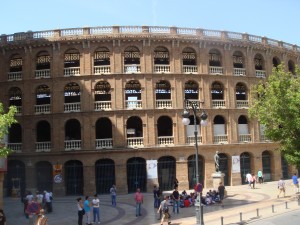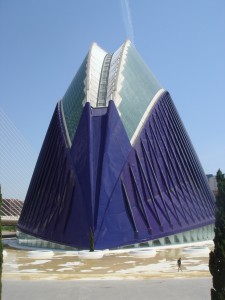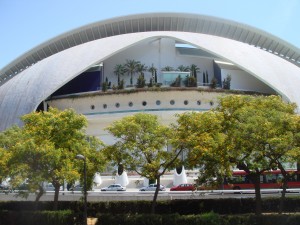 Denia was our next stop and I have to say that the staff were extremely friendly and helpful. The facilities here were also spotless (best we have ever found) and the marina is edged with restaurants but thankfully no boom boom bars.
We had to shelter in here for 4/5 days as the winds were pumping quite hard (F8+). Above the marina office there is "Zensa" a restaurant and bar complete with swimming pool and sumptuous day beds and massive cushions. (not just normal sun loungers-check the Denia link above) All the facilities are free as long as you buy at least one drink, fantastic place to spend a few hours as it is all screened from the winds by glass panels.
Now the town next to Denia is Xavia which I was really looking forward to visiting as it had been highly recommended. As there are no buses or trains between the towns we arranged a taxi, with the bonus that the driver could speak English so he explained that the town of Xavia is inland and that the port area hotels etc had all been developed for tourists. We had him drop us off at the far end of town so that we could walk back along the full stretch of coastline. There are still a number of the saltpans apparently carved out of the rocks in Roman Times, these we found fascinating; and there are quite a number of them along the rocky part of the coast.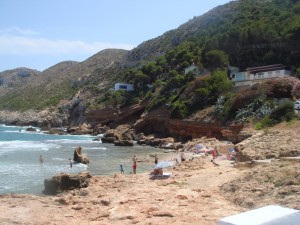 Next day we decided to walk out Denia marina and head south to stretch our legs and see how far the promenade went. This turned out to be a lovely treck. We walked through what must have been at one time fisherman's cottages – a really lovely coastal walk with a number of small bar/restaurants right on the water's edge – more the ticket for us.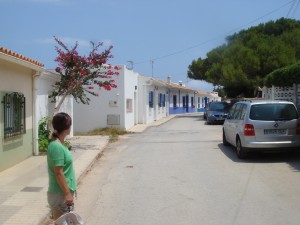 Now when we arrived in Denia we were going to refuel but had to abort as the height from Sun Dog's deck to the level of the fuel dock was too high for Sara, and would have been a stretch even for me. Therefore we arranged to go round while the mariniero was in attendance, refuel, and then return to our berth. That way we will have everything ready to go when the weather breaks, including a full fresh water tank. After having been here for so long we are getting itchy feet to head off for the islands. I do hope that Ibiza has not gone completely feral with boom boom bars and associated social issues.
The forecast was eventually right for us so we waited a day till the sea calmed down and then cast of the lines and headed over towards Ibiza, well to be more factual Espalmador, a private island south of the main island of Ibiza. This meant a longer day (increased distance) but we were rewarded by there being a spare mooring available, this is the only way to stay in this spot as anchoring is no longer allowed. This is indeed a really lovely corner of the world.
I have to admit that I almost had a coronary when going between the two small island leading into the anchorage (moorings) because as I looked over the side of the boat I thought I was in really shallow water and moving over the top of rocks….. after I pushed my heart back down my throat and checked the echo sounder (depth gauge) I realised there was enough water below our keel (approx 4m) and it was simply the clarity of the water that had given this optical illusion.
Once the boat was duly moored the crew wanted off the boat immediately for a swim.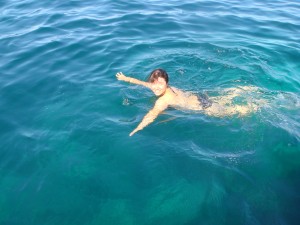 Now there was boarding ladder when I bought the boat that slipped into two holes on the side of the boat, but we had never used this for swimming before. Out of the locker it came, but I was dubious about using this as it seemed to put excess stress on the fibreglass. In truth we were so hot and sticky that it was simply a case of over the side to cool down – really really lovely.
After our swim I tried various ways of getting this ladder to work for us –putting fenders behind – tying different ways, but we had to concede that it's useless for this purpose and we will need to source another type of design. Probably an old traditional rope one with wooded treads would suit best, but that will need to wait for another day.
From Espalmador we decided to go clockwise around the island and headed off for Cala Moli, well here comes todays confessional time – we actually anchored in Cala Tarida believing it was Cala Moli.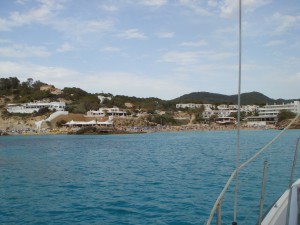 – to be fair they are next to each other and it was our first time sailing the boat in Ibiza. No excuses, it was a mistake and a case of eyes and brain making things fit……..or my brain simply not working!!
We inflated the dingy and out came the outboard, and yes you've guessed it, the little darling wouldn't start. In the engines defence, it hasn't been used since 2011. Out came the tools and after a wee while she fired up fine. While doing all this in the dingy (you can imagine all the fasteners etc that we couldn't lose – and the wash of motor boats) we had the joy of Mr Pain in the Ar** anchored next to us. He swam across (while I was working on the engine) to ask if we were staying overnight, followed my affirmation he then went rattling on that he was of the opinion the boats would swing around and bump each other during the night, a strong wind would pump into the bay, dragons and sea serpents would chew through anchor cables, etc etc. you get the type. His timing, and attitude, was lets say, less than ideal. I felt like giving him both Celtic barrels….but I just put up with him! Personally I think he was suffering from new boat syndrome, but to avoid an "international incident" occuring because of his continual bleating we simply moved and re anchored. Sara gave me "brownie points" for being so calm and mature……..that was a first!!!! 🙂
I watched him on and off all day, and he went through the same process with everyone who anchored anywhere near his boat. When I awoke in the morning I noticed he had fenders wrapped all around his boat – I don't know where or how anyone could store this number of fenders on any normal sized yacht! It made me feel a wee bit sorry for him as he clearly couldn't relax and enjoy himself, as he must have been so full of angst and anxiety about the possibility of his new boat getting damaged …..
In the morning we went to have a look at Cala Moli (a few hundred yards away) and then headed off for Port Torrent an anchorage in San Antonio Bay. The winds were forecast to be from the east and this would be nicely sheltered. Heading north up the coast towards the bay there are two islands, Bosque and the larger Conjera and according to the pilot book there is a narrow gap between both with a depth of 2 metres and rocks either side……why would you – and we didn't! The wind gods had decided not to follow the forecast, and blew from the north and thus we had a F4/5 on the nose which along with our boat speed meant it was more like a F5/6, and also meant that Port Torrent would have been totally exposed. We therefore decided to head over to the north coast, and after a check in the pilot book we headed over to Cala Grassio.
The further we got into San Antonio bay the more shelter we had from the winds and seas, and by the time we reached Cala Grassio all was lovely and calm. What a difference a few miles can make.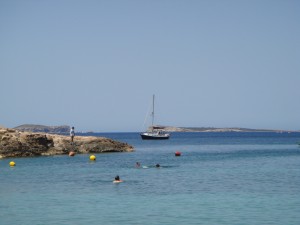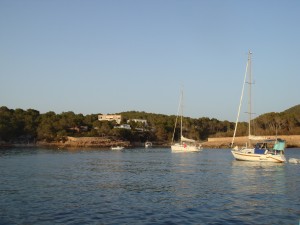 The anchorage itself is quite small, but as we were the first boat there we managed to drop the hook on a clear/best patch of sand. Inside the cala it splits into two distinct beaches, each of them lovely. We went ashore in the dingy and had a bit of a beach day. This was simply devine and as the holiday period hadn't started in earnest, it was not too busy.
There was a particular fish in the Cala that likes nibbling feet, and no, not a Piranha. One nibbled Sara's feet and she was like a cartoon character leaping onto me as if Jaws was attacking her – really funny, but perhaps you had to be there!
Next stop was to be Port de San Miguel where the pilot book said there was a supermarket, and as we needed to stock up on fresh fruit and veg it seemed a good enough choice. The trip around to there was a bit windy/lumpy but this cala is very well sheltered. Indeed it also splits into two, one being the San Miguel the other being Cala Binirras which apparently is a bit of a hippy place – but the wind was reaching into that particular cala with all the boats hobby horsing about, we stuck with plan A and anchored in San Miguel.
We went ashore in the dinghy, but we didn't really like the place that much, and the supermarket was uber expensive, so once back to the boat we decided to head on round the island to Cala Serra which had been recommended. Once out of the Cala the sea was still pretty lumpy and when we were approaching the lighthouse it was obvious we wouldn't get shelter on the other side of the island and decided to turn back to San Miguel until things settled.
Once back in and securely anchored (sheltered and flat water) we saw a shack type bar/restaurant in a small cove which had sunbeds on the pebbly beach.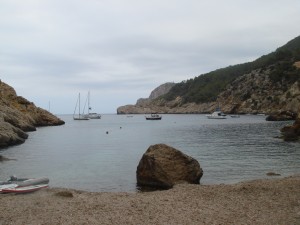 I think the best way to describe it was that it looked a bit Bohemian. We took the dinghy ashore and loved the place, all the food is cooked on a large steel plate heated by gas burners, and the squid we ordered was so fresh and delicious it would be hard to beat – highly recommended.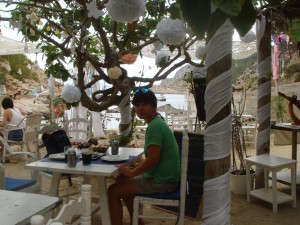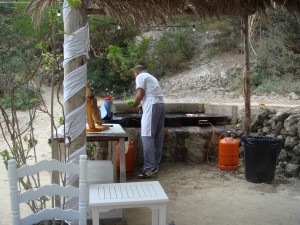 After this lovely meal we stretched out on the sun beds and chilled out for the rest of the day. This was definitely a highlight of our trip…….it's funny how things work out sometimes.
Next day up with the hook and off to Cala Serra. When we arrived there was a "trip boat" at anchor and this used up all the space as the anchorage is so small. It would not be ideal for an overnight stay either as it's so narrow at the head of the cala – why this is listed as a recommended anchorage is a mystery to me!
So off we went once more, this time to Cala St Vincente in about a F4/5 thinking this would give us shelter, but when we arrived the headland didn't give the shelter we hoped, and the wind was piping straight into the bay. We decided to drop the anchor as close as we could to the headland which would shelter us a little until the wind moved to the east (allegedly). We found an area of sand and dropped the anchor which thankfully bit in right away and the boat settled fine. Need to get a badge made saying "I love my Rocna Anchor " 🙂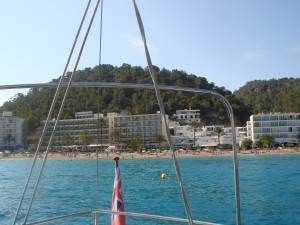 Photo taken the morning after our arrival.
It's always reassuring when you can trust your ground tackle, but it's also a thought to leave the boat especially with a lee shore 100yds behind you. The rational part of ones brain knows the boat will be fine – but there's another part of my brain that simply will not settle. Therefore we stayed on the boat for a time just to be absolutely sure. Just as we were getting ready to go ashore we saw this beautiful old ketch heading into the cala. Turns out it had the red ensign flying and once they were securely anchored we passed them on our way to the beach in the dingy to compliment them on their beautiful boat. They invited us onboard and it turns out that the chap had actually built the boat himself, and showed a photo album showing its construction. He used a 1932 design for the boat and it took him 8 years to build the boat completely in wood……amazing time to spend on a project considering we only have one lifetime.
After an hour in their company and with the wind moving round and thus sheltering the cala we went ashore for another beach day, nice place, small but peaceful with no boom boom bars – in fact there has been (thankfully) a dearth of these kind of bars etc all around the island. We assume now that they must all be condensed in certain enclaves…or any other adjective you care to use.
Relaxing on the beach we decided that if the winds were from the right direction in the morning we would use this as our departure point for Mallorca.
Next morning in smooth seas we set off motor sailing for Santa Ponsa and had a smashing crossing in pretty calm condition, but as we were approaching the island, either the wind picked up or the sea breeze was kicking in well offshore. Unfortunately Santa Ponsa was not as sheltered as we had hoped (is there a pattern emerging?) and the anchorage was pretty congested. However we eventually found a clean patch of sea bed with enough swinging room, and duly dropped the hook. We then noticed a boat called Riverdance the owners of which we had met in Denia when they, like us, were sheltering for a few days. They informed us where the supermarket etc was located and invited us to become honorary Dutchmen for the day and join them and their Dutch friends to watch the football….we declined gracefully.
The reason we had chosen Santa Ponsa was that one of my sisters, Trisha, and her family were holidaying in Palma Nova, but being a typical male I couldn't recall the actual dates of their holiday. I sent her a text and…..wait for it…..they hadn't even left Scotland yet ….go on snigger why don't you?
From Santa Ponsa we decided to head for Soller on the north coast of the island, however sods law once again manifested itself and as we were approaching Dragonera island the wind was pumping hard on the nose, but we decided to keep going albeit it was a bumpy ride. After a few hours the wind eased off and the sea calmed down allowing us to enjoy our coffee! The cliffs and scenery along this coast were very reminiscent of the North West of Scotland with all the mountains etc, really really pretty. This is not the coastline to get caught out in if there was a big blow onshore, as Soller is the only refuge along this 60 mile or so coastline.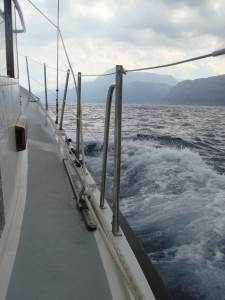 Entering Soller was rather neat with cliffs either side, and we were really looking forward to this stop as we have heard lots of good reports.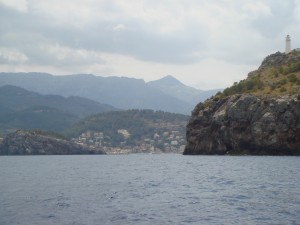 We wanted to anchor tucked into the best shelter, (from the military base to the marina offers the best shelter) but the anchorage has quite a number of local moorings, and was pretty busy with visiting boats at anchor. This meant our only available spot was open to the swell coming into Soller.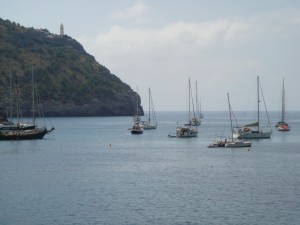 This wasn't so bad while the wind was from the north, as it kept the boat pointing into the swell. But later in the day the wind was dying and was variable in direction and light in strength, this meant Sun Dog was at times broadside to the swell. She rolled like you would not believe. Had there been room I would have set a kedge anchor to keep her nose to the swell, but there were simply too many boats around. Come night time the swell increased and as the boat was broadside to the swell it was impossible to sleep so we both sat up in the cockpit wrapped in blankets. Sara reckoned the boat was rocking 45 degrees one way and then the same the other………it was not the best of nights.
To further our joy and enhance the overall experience – no let me explain something first – a number of years ago while doing a job on the boat that needed three hands the size of a childs in a tight space, I ended up dropping a socket down the back of the units. Now this socket has lain wherever it fell and has never moved, rolled, nor indeed rattled in all these years……yep you've guessed it – until now!! As the boat rolled one way we heard the socket rolling for a few seconds followed by a thump – then on the next roll off it went the other way rrrrrrrr – thump rrrrrrrrr- thump – hour after hour!! This was like Japanese water torture, and despite trying every mental trick in the book neither of us could shut this noise out – deep deep joy – I cannot recall any evening full of such bliss.
In the morning I emptied cupboards to lift the bases and find this (expletive deleted) socket but all to no avail. Aha I thought it must be under the cooker – so further stripping out but no socket could be found….boy was I happy! In fact by this time I was convinced I was going slowly insane, but then suddenly I had a brainwave. If I could find a magnet shaped like a washer and about the same diameter as the socket, I could tie a bit of string onto this and lower it into the small hole, let it roll into whatever space the socket was in, and try and "catch" the little darling. Mad I hear you say………well I was considering coming to a deal with Satan for my soul, if only he would let me remove this *$&**ng socket……….
We went ashore to try and secure a berth in the marina, and found out there were two marinas, one of which was a public port and they could give us a berth…….no messing about, back to the boat and into the berth asap. Turns out that there are public ports around the island and their prices are more than reasonable. We were expecting it to cost us anywhere from 80-100 euros a night (not that we would have cared too much after last night) but turns out the charges for berthing, water, electricity and IVA (VAT) came to 34 euros per night in the public port. Port Soller is another beautiful quiet town. We took the old Victorian tram up to the actual town of Soller a few miles inland, and found that to be just as delightful.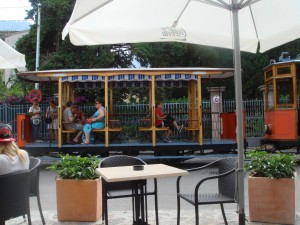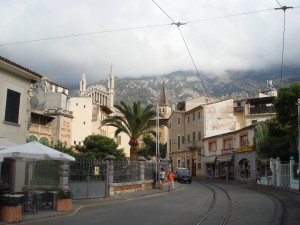 In the town we found an old fashioned ironmonger – in we went and they did indeed have a selection of magnets (yep I couldn't believe it either) one style was in the shape of washers and about the same diameter as the socket (again hard to believe) so we selected the appropriate number and tried them for strength against metal objects in the shop.
Back to the boat tied the string to the magnets and lowered away – first "cast" no joy.
Second cast, bingo, the magnets latched onto the socket and I very gingerly lifted them back to the very small opening and was what can only be described as being beyond joy when the socket was finally removed. Which just goes to show there is indeed a God; and my decision not to sell my soul to the devil has been vindicated…..be warned about such dark thoughts if you are ever placed in a similar state of trial 🙂
That night we looked out and could see the anchorage had become even busier and felt sorry for those still at anchor and rolling in the swell. It was the same as last night with all the masts swirling about like an excitable conductor's baton. I am also sure I could hear the ghostly sound of a socket rolling around on a boat (rrrrrrr thump rrrrr thump) but this might just have been my imagination.
Next morning, and this might not come as any surprise, there was a mass influx of boats from the anchorage (all skippers and crew had a strange look in their eyes 🙁 ) and in a very short period of time, every berth in the public port was taken. We enjoyed Soller so much that we ended up staying for 4 days, and were quite sad to go when we had to leave and head for Pollenca. Soller is definitely a highly recommended stop.
We had about 35 miles to get to Pollenca and were having a nice time going along until we hit Cala St Vincente bay, (between Punta de Cova Blanca and Punta de la Troneta) when we got hit by some really strong gusts and squalls. Now we knew the wind was from the south and we were going along the north coast, so we can only assume that the wind funnels down over the mountains (Katabatic winds) and creates these conditions. The wind went from around 10 knots to 35 with stronger gusts in seconds and had me wondering what the conditions would be like when we rounded the headland of Cabo de Formentor if this wind strength continued to climb.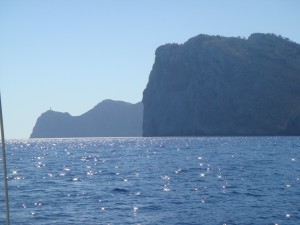 As it turned out the squally conditions stopped, and it was really smooth at the headland. The run down to Pollenca after turning at the headland was however in a bit of confused sea. Had the conditions been right we intended anchoring in Cala de Engosaula, but as it was exposed we kept going for Pollenca Bay. The anchorage in the bay offered decent shelter, but even here the wind was still hitting 20 – 35 knots.
Being honest, our first impression of Pollenca was one of disappointment, but I think in retrospect it was because it was much larger than our recent stopovers, and as the days passed we began to like it more and more. It is really peaceful at night, and another haven without boom boom bars – plenty of those in Alcudia.
By this time Trisha, Gordon and Liam had actually left Scotland and arrived at their hotel in Palma Nova, and we decided we would get the bus over to spend the day with them. I was thoughtful about leaving the boat at anchor in these conditions, (the other side of my brain will not give me peace) so after much humming and hawing we went into the marina and found that the main one was a Club Nautico, but there was also a public port. Firstly we refuelled the boat and the chap at the fuel pontoon called the public port guys on the radio, and we were pleased that they could give us a berth for a couple of nights. They had all the boats details in their computer system so booking in was easy and the price was the same as in Soller….result.
Sara checked the bus timetable and next morning off we went from Pollenca to the main bus station in Palma (about 1 hour) and from there another bus to Palma Nova (about 20 mins) and met up with them at their hotel. We had a lovely day at the poolside and on the beach, and have to say that Tricia and Gordon's son Liam is such a lovely teenager and fun to spend time with…..quite a special day. There is a frozen yogurt stall/cafe at the beach and it was simply divine and lived up to Tricia's description…….yummy.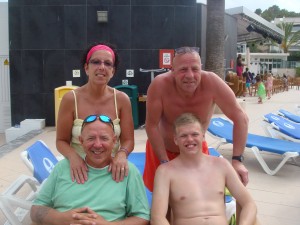 Once back in Pollenca that night we were pleased we had booked into the marina because the winds had piped up again and it would have been nigh impossible to get back to the boat in our dinghy if we had still been at anchor in the bay.
We were really getting rather fond of Pollenca by this time, and decided to stay another three nights in the marina, with Saturday looking like a good weather window to get back to Barcelona. In the meantime we relaxed on the beach and enjoyed the town, while stocking up with food at the supermarket and enjoying the Pine Walk part of the waterfront, and the café's in the square.
There is a sea plane base in the bay – the type used to fight forest fires etc, and we watched one take off…quite impressive. We have nicknamed them Tonka's ……..see photos, big red and yellow, no further explanation required!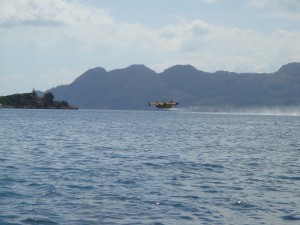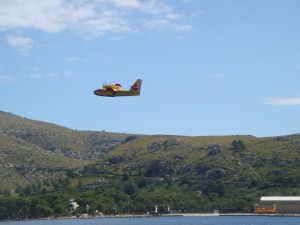 When it comes to the weather in the Med, I have to put my hands up and say that I cannot read it at all. The barometer is no help and gives no indication as it would back home. Navtex messages re the islands haven't been exactly frequent. Clouds are also no indication,(unless cigar shaped) and clear skies do not mean no wind. As someone we met once said when discussing this subject ….."no wonder people were sacrificed to the Gods in historic times in the hope of pleasing them and getting better weather" …………………..
Only info that has proven reasonably accurate is the weather forecast on the internet site Ugrib, but this only any good if there is internet access available. It appears to us that getting a Wi Fi hot spot for on the boat is the best option, and we have tried to buy one in various towns but they have never had a pre pay version in stock therefore we will wait till back in Barcelona to do this as this will give us an internet connection anywhere a mobile phone signal can be received.
We left Pollenca around 1400 on the Saturday with southerly winds forecast and as we were heading out along the southern end of the headland we had easterly winds on the nose creating a reasonable swell. However when we turned at Cabo Formentor to get on to our course of circa 330 degrees the wind was from the north…..how this happens I simply cannot explain as it flies in the face of logic. However we decided to press on into the wind and waves, and for a few hours the northeries persisted and then the wind started to back to a westerly direction for a few hours, and then finally the southerlies kicked in.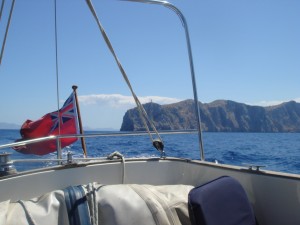 Sun Dog started to make up for lost time and she was surging along at times with the swell/waves – only someone who is used to being on boats knows what a good feeling this is – i love it.
Over halfway I saw on AIS that a fishing boat was working a particular part of the sea going around and around the same area so I decided to give them a clearing of around ½ mile to the west of them as they had only been working north, east and south of our rumb line (direct line from point A to point B) and I thought this was prudent and courteous and would leave them to get on with their work. We had another yacht about ½ mile behind us, but they kept their course which I thought would be "interesting" when they came upon the big trawler, and it was big!
When I was approaching the latitude of the fishing boat, they suddenly changed course to the west and accelerated to 6 knots directly at us!! From the AIS they had been at around 1 knot or less for over an hour, but here they were bearing straight for our midships at speed! Now call me a cynic but I swear blind this was intentional because after I had accelerated away from them – thank you Mr Perkins – they turned back and went across the path of the other yacht and it must have been a pretty close and scary encounter for them.
I have a lot of respect for fishermen doing their work, but it's hard to maintain this respect when these kind of events happen. I continued to look at the fishing boat on AIS and after we both had passed them they went back to working the same bit of sea, at the same speed, and in the same pattern as before…………..I will leave you to draw your own conclusions.
While I am kind of on my soap box, my other gripe, apart from the one about the fishing boat is yachts with navigation lights that are so dim they only appear out of the darkness a short distance away – some should just use candles – they would be equally ineffective. For everyone's safety and well being it really should be a case of see and be seen, …..end of rant.
The whole night was busy with commercial shipping and yachts, and required my constant attention but this does make the night more interesting and keeps one fully awake and focussed.
Approaching Barcelona I was going to nip in between the breakwater and the anchored ships as we normally do, but there was so much traffic moving into the harbour and also lots of ship movement in the anchorage. Therefore I decided to go round to the other side of harbour and around the back of the anchored ships and in passed the breakwater where we got the sails down, and then got moored up at our berth in the the club after a 17 hour crossing.
Once tied up we realised just how tired we were, so it was breakfast, then shower, followed by a deep contented sleep after having had such a wonderful whistle stop tour of a chunk of mainland Spain, almost circumnavigating Ibiza, and seeing the top half of Mallorca. Biggest eye opener for us both was just how pretty Ibiza is. Now whether this was because we had such a low expectation it matters not, the island is of such a size that one can easily find shelter around the island. Soller was our favourite stop on Mallorca, with Denia being the best of the places we hadn't seen before on the mainland.
So that's it for now, with the next few days having to be spent on getting the boat cleaned and laundry etc carried out so that Sun Dog is ready for our next sojourn.